Films
ASP Films is your hub on campus for film! AS Films produces low-cost and free film events on campus ranging from large-scale 'festival' type events to more intimate settings. There's a show for everyone—from recent releases to cult classics!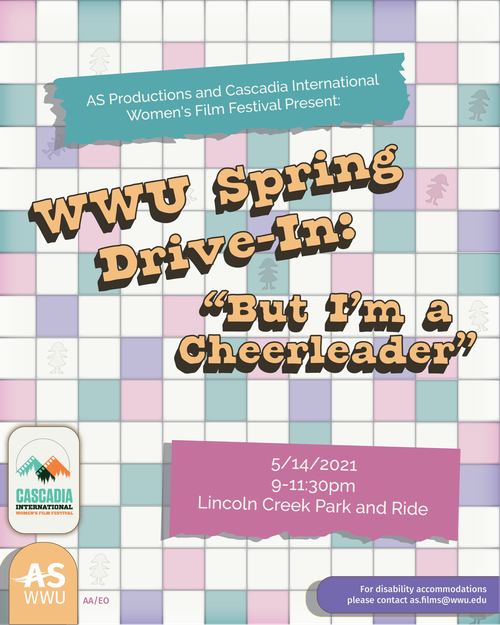 The WWU Spring Drive-In is coming up on Friday, May 14th at 9 PM at the Lincoln Creek Park and Ride! Come see the hilarious cult classic But I'm a Cheerleader, starring Natasha Lyonne, Clea Duvall, Michelle Williams, and RuPaul. In this 90s queer comedy, a teenage cheerleader is sent to a religious summer camp when her conservative parents and friends suspect her of being a lesbian. From there, she embarks on a journey of romance, self-discovery, and learning to accept herself for who she truly is. But I'm a Cheerleader will be preceded by a short film from Cascadia Women's International Film Festival.
-Directed by: Jamie Babbit


There are a limited number of spots for this event, so don't miss your chance to get tickets!
The cost of admission is only $5 for Western students and $20 for the general public.
[and that ticket is good for TWO people!]

The feature film will be preceded by Robin Cloud's short film 2 Dollars, an official selection from Cascadia International Women's Film Festival!
Syd, a black queer artist, deals with the daily slights from ignorant co-workers, an oblivious boss, and a killer workload. Louise, a gambling-addicted coworker, pressures Syd into contributing to the office lotto pool.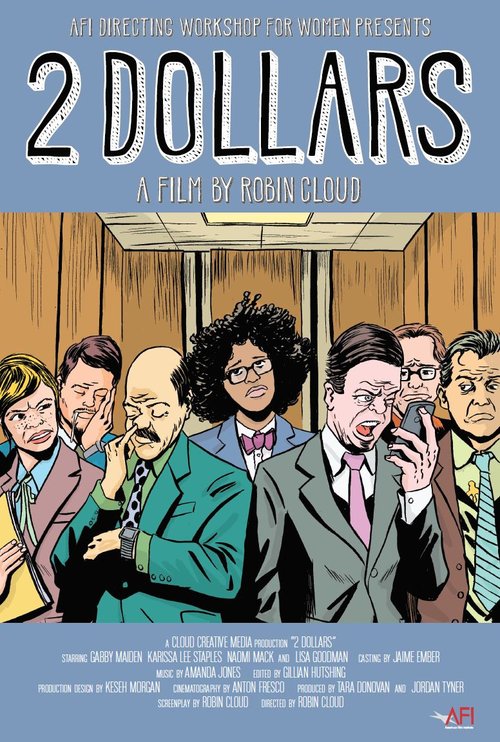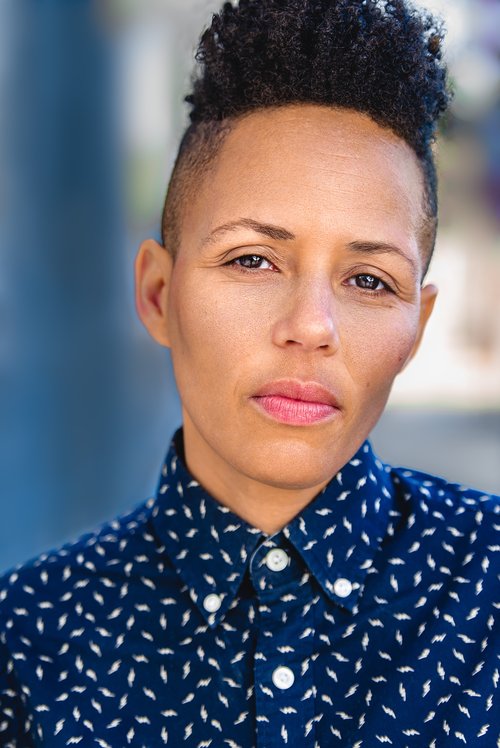 Robin Cloud, director of 2 Dollars

Be sure to follow us on Instagram @wwu_asp to get the latest updates on the Spring Drive-In and other fun events!
For disability accommodations, please contact as.films@wwu.edu.

Watch the film trailer!
Wondering How the Drive-in Will Work?
Please take a couple of minutes to read through this important info that will let you know what to expect during the event.

Arrival & Check-In
Check-in will begin at 8pm.
Do not arrive before 8pm as there is no place for cars to line-up and wait.
We are relying on a speedy check-in (~ 20 seconds per car) as cars reach the stop sign on Byron Ave before turning right onto Lincoln.

Enter according to the map below

Follow the signs to turn heading east from Lincoln onto E. Maple St
(located at the NW corner of the Lincoln Creek lot)
This street soon becomes Ashley Ave.
Turn left onto Byron Ave., heading back toward Lincoln St.
At the corner of Byron and Lincoln, our staff will greet you with a smile. You will:


Pull up next to the check in staff and place the WWU Student ID or driver's license of the ticket buyer against your closed passenger side window.
Pause while we measure the height of your car and place a piece of reflective tape on your windshield to indicate that you are able to enter the lot. Taller vehicles will be parked further back.
Turn right to head down Lincoln and to be waved into the lot.
Follow the direction of the parking attendants. We must keep vehicles 6 feet apart.


Running Late?
You must get there by 8:50pm or you may lose your spot, so plan ahead! Gates will close after the movie begins at 9pm.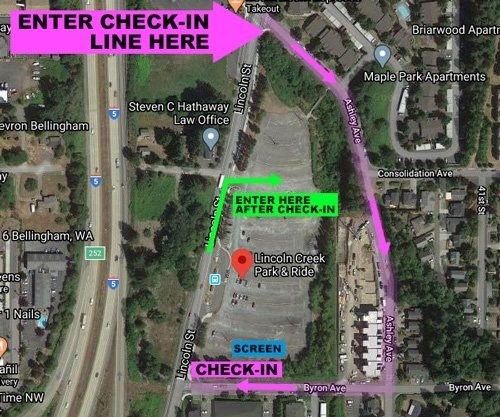 Restrooms
We will have portable restrooms and handwashing stations. The restroom line must maintain at least 6-feet social distancing. There will also be disinfecting wipes available for each user to be able to wipe down the door handles and surfaces, as desired.
Going to & from the restroom is the ONLY allowable reason for attendees to get out of their vehicles.

A Note About Radios & Car Batteries
You will need a working radio to hear the movies.
There will not be radios on-hand to provide to attendees. You can use your car's radio or any portable radio.
Running the car radio for the length of a movie could drain car batteries that aren't fully charged or new. Please consider the life of your car battery and whether you may need to bring a portable radio.
If your car battery dies, seek assistance from event staff at the staff table/tent.

Some (not most) phones have an FM tuner built-in and can be used to pick-up local radio waves without data/streaming. See a list of those phones here.
If you follow instructions for setting up your phone ahead of time to receive radio (not via a streaming app like TuneIn Radio – that will not work), your phone could be useful at the drive-in. Otherwise, you'll need to use the car radio or a battery-powered radio that you bring along.
Also, many older iPods (2015 and earlier) have FM tuners built-in.


A Reminder of the Safety & Event Regulations:
All attendees must bring a mask or cloth face covering with them to the event.
Attendees may get out of their cars ONLY to go to the restroom.
Masks MUST be worn at all times that attendees are outside of their vehicles for restrooms.
Walk-in attendees are not allowed. Everyone must arrive in a vehicle and remain in their vehicle, as noted above.
Attendees in the car together should be from the existing close-contact groups, the same household, or COVID exposure "pod/bubble," and should avoid becoming exposed to new people during this event.
The feature film is Rated R. Therefore, someone 17 or older must be present in each car.
Handwashing stations and hand sanitizer will be near the portable restrooms. We encourage everyone to also bring and use your own personal hand sanitizer in your car as well.
If you do not arrive at the check-in location by 8:50pm, you may lose your spot at the event. The gate will close promptly at 9:00pm.




FAQs

How do I tune in?
The film audio will be broadcast via FM radio, the frequency will be picked that day so that there is no interference and will be posted on the screen before the showings begin.

Can we have our windows rolled down while watching?
Yes. We know you'll need to roll them down at times for temperature control and de-fogging windows. But we ask that you only roll them down a couple of inches, if possible, and as temporarily as possible. This will also help contain the sound and keep the next car over happy as well as the nearby residents.

Can we bring in our own snacks?
Yes. You are welcome to bring your own food. There will not be any concession sales prior to or during this event. Please keep your trash in your car to dispose of later back at home.

What about disability accommodations?
There will be closed captioning on screen. One of the portable restrooms will be ADA accessible. And if you need to reach us to discuss any additional accommodations, such as the need to be parked near the ADA restroom to avoid gravel, please reach us at as.films@wwu.edu



We'll See You At The Movies!!
---
Sign up for our newsletter