VU Gallery
The Viking Union Gallery is a student-curated exhibition space sponsored by Western Washington University's Associated Student Productions. Our primary focus is to contribute to the artistic culture of Bellingham's community while promoting the artwork of Western's student and regional artists.

For questions or concerns, please contact Ruth Barnes, the VU Gallery Director at as.gallery@wwu.edu
The physical gallery is open Monday - Friday, 11am to 5pm while an exhibit is in progress.
---
UPCOMING/CURRENT EVENTS:
---
WONDER, WARMTH, WHIMSY: WORKS BY ROWAN KINGSBURY
(Virtual Exclusive Exhibit)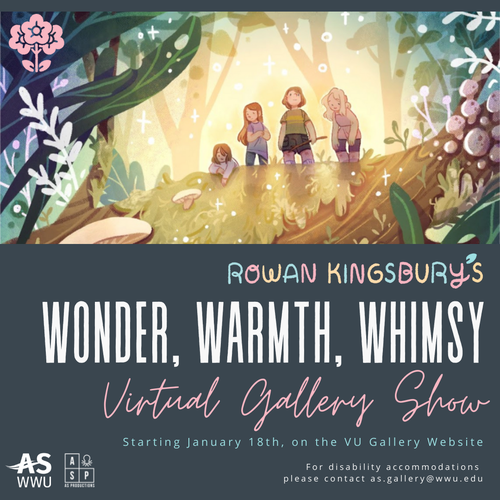 Beginning January 18th, view artist Rowan Kingsbury's work on the virtual gallery. Rowan is a recent graduate from the Pacific Northwest College of Art in Portland, Oregon and works primarily with gouache, colored pencil, and digital mediums to create illustrations that invite feelings of wonder, warmth, and whimsy. Rowan is also a children's book illustrator, and has plans to write, illustrate, and publish her own book someday.
View Rowan Kingsbury's show "Wonder, Warmth, Whimsy" on the Virtual VU Gallery here.
View Rowan Kingsbury's website and online store here.
---
STUDIO ART BFA WINTER EXHIBITION (GROUP SHOW)
Postponed due to COVID concerns
OPENS JANUARY 24TH, Virtual Reception Feb. 16th 4-6PM (Stay tuned for zoom link!)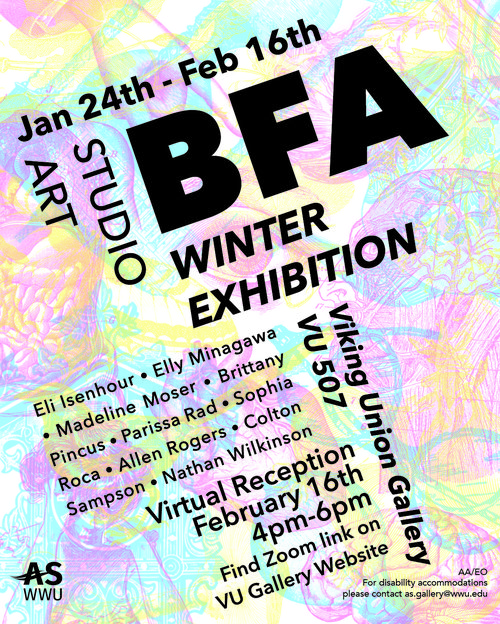 This year's BFA cohort is proud to present the Studio Art BFA Winter Exhibition! Featuring works from Eli Isenhour, Elly Minagawa, Madeline Moser, Brittany Pincus, Parissa Rad, Sophia Roca, Allen Rogers, Colton Sampson, Nathan Wilkinson.
---
BACKGROUND NOISE: WORKS BY CASSIE HART
(Virtual Exclusive Exhibit)
Beginning November 8th, view Ohio-based artist Cassie Hart's work on the virtual gallery.
Cassie Hart is a BFA graduate from Savannah College of Art and Design, and her work in this show features her sketchbook, and one larger-size painting.
View Cassie Hart's show "Background Noise" on the Virtual VU Gallery here.
View Cassie Hart's website and online store here.
---
SOMETHING STRANGE (GROUP SHOW)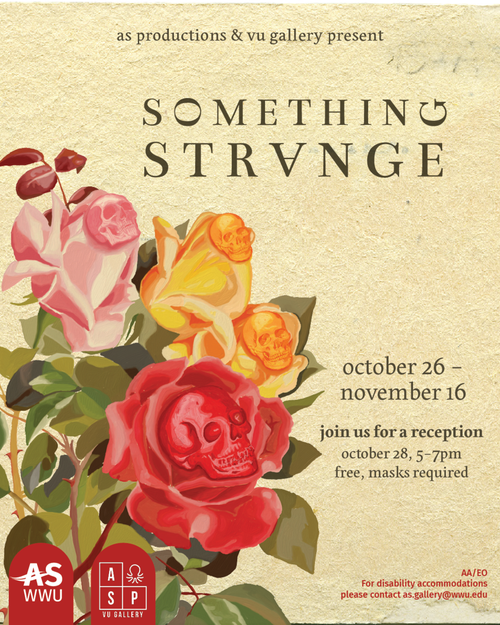 From October 26th to November 16th, join us in the VU Gallery to celebrate 5 amazing local artists in this group show. An opening reception will be held in the VU Gallery from 5-7pm (masks required!), where you can chat with the artists and ask them about their work. Artists featured in the exhibition: Leah Adams, Maddie Dowling, Cassandra Hart, Thea Mroz, and Mahllie.
Missed the show in person? You can view the work on the VU Gallery's virtual gallery space here!
---
MY_ART_BYTES: WORKS BY RYAN HAIGHT
(Virtual Exclusive Exhibit)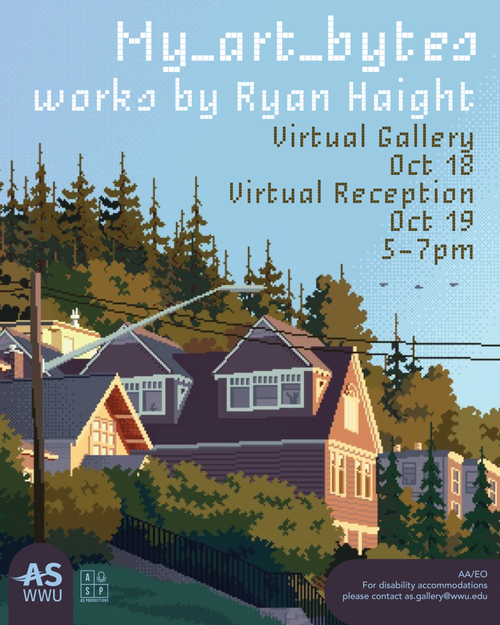 Beginning Oct. 18th, view artist Ryan Haight's pixel illustrations on our virtual gallery site. Ryan Haight's work can be found as the header image on the Associated Students page, as well as the Viking Union page on the WWU website.
See his work here on the Virtual VU Gallery
Reception/Artist Q&A will be held over Zoom on Oct. 19th, from 5pm - 7pm.
---
DRAWING JAM
Drawing Jam is an annual art project for WWU Students to come and share their work. Beginning Oct. 4th, come down to room 507 of the Viking Union to draw, sketch, or doodle on our walls covered in paper! If you don't know what to draw, follow the prompts that will be added every Monday and Wednesday until we tear it all down on Oct. 15th.
---
ARTIST Q&A's
All of our past Artist Q&A's have been recorded and can be found on the ASP YouTube channel or through their respective exhibitions via the link above.
PREVIOUS SHOWS
All of our previous (virtual) shows from the year 2020-2021 are available to view on our virtual gallery website via the link above.
2019-2020 VU Gallery Catalogue
---
Sign up for our newsletter