VU Gallery
The Viking Union Gallery is a student-curated exhibition space sponsored by Western Washington University's Associated Student Productions. Our primary focus is to contribute to the artistic culture of Bellingham's community while promoting the artwork of Western's student and regional artists.

The physical gallery is currently closed due to COVID-19 but, check out our virtual exhibitions!
2019-2020 VU Gallery Catalogue
QUARANTINE CONFESSIONS - LAWNSTOCK 2021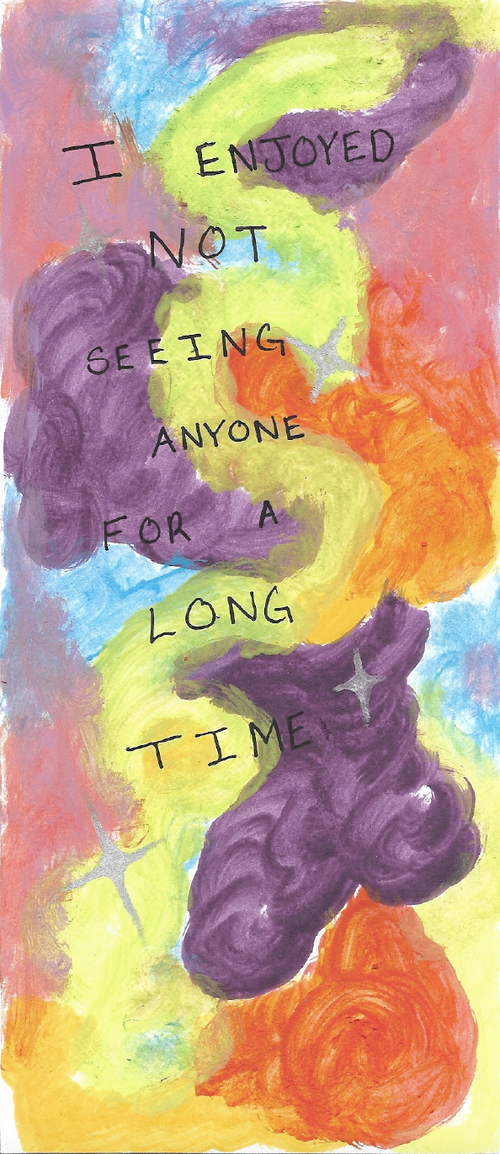 Quarantine Confessions is an installation art project for Lawnstock 2021 inspired by Post Secret. This project relies on submissions provided by you. All submissions will be compiled into an outdoor installation for Lawnstock 2021, Saturday June 5th.
Beginning May 21st, drop off your anonymous submission at a collection box on campus. Collection mailboxes are located in the Viking Union at the welcome desk on the 6th floor and, in Mathes Hall at the welcome desk. Submissions will be gathered by Friday, June 4th around 4pm.
You can submit anything you'd like to share, it doesn't have to be related to the pandemic. You may find this exercise cathartic. Possible submissions may be: secrets, confessions, unexpressed feelings, successes, dreams, desires, complaints, affirmations - whatever you wish! Physical submissions must be 2-dimensional so that they fit in the collection boxes. See our Instagram for more examples.
STROKE x STROKE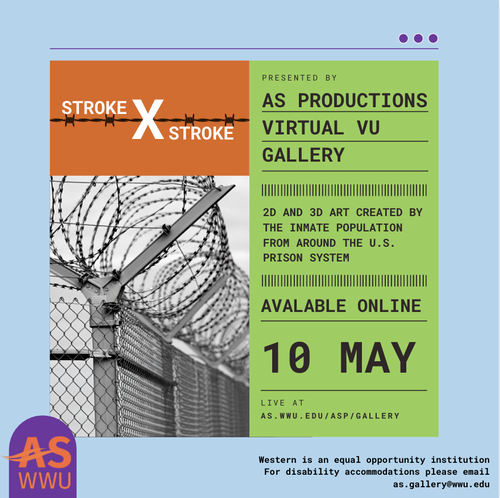 STROKE x STROKE is a creative project showcasing artwork created by the inmate population from around the U.S. Prison system. STROKE x STROKE's primary goal is to facilitate a platform for inmate artists to depict their stories and experiences. This project exists to promote conversations around mass incarceration and its effects on society, mental health, rehabilitation, and life after prison. 
This project has three different components: the virtual show available through the above link; a letter-writing event with presentations prepared by the AS OCE at 7pm on Tuesday, May 11th via Zoom; and finally, a showing of the documentary "They Call Us Monsters" at 7pm on Tuesday, May 18th.
If you want to participate in the letter writing to incarcerated individuals but need supplies such as envelopes or stamps, please fill out this request form by the end of the day May 10th: https://docs.google.com/forms/d/e/1FAIpQLScG7ZCC3H3POJa2OWTcjE_FVzAePRIPMt57q1d8CDuHVz2tRw/viewform
Letter Writing & OCE Info Session via Zoom:
https://wwu-edu.zoom.us/j/5214009290
Meeting ID: 521 400 9290
Join the ASP Discord server to attend the film screening: https://discord.gg/E3RJqZhY
Email Newt Warren, VU Gallery Director, at as.gallery@wwu.edu with any questions.
SEEING YOURSELF IN NATURE: A COLLABORATIVE ART SHOW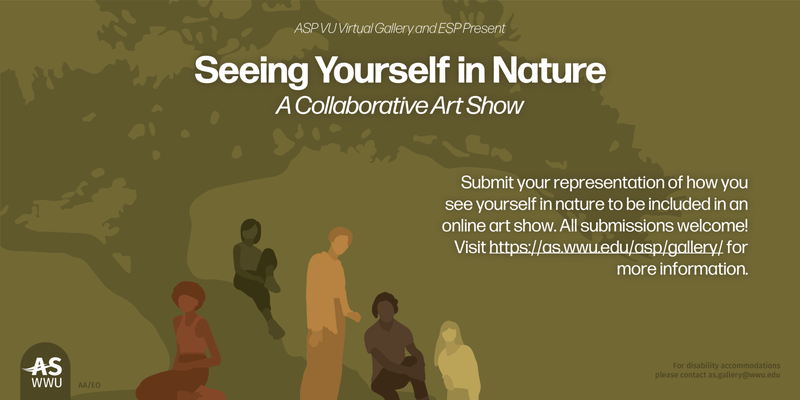 Seeing Yourself in Nature is a collaboration between AS ESP and ASP in celebration of Earth Day. We are seeking creative interpretations of the following prompt to be included in our virtual VU Gallery: an image of a work of art, photograph, audio file, text, video, or other digital media that you've created yourself which expresses how you see yourself in relationship with the natural world. You may create something new for your submission or, submit something you've already created that fits the prompt.
Submissions have closed and you can see the finished exhibition through the link above.
ARTIST Q&A's
All of our past Artist Q&A's have been recorded and can be found on the ASP YouTube channel or through their respective exhibitions via the link above.
---
Sign up for our newsletter