June 4th, 4pm @ Communications Lawn

Lawnstock is happening this year LIVE and in person!

On Saturday, June 4th at 4pm, come on down to the Communications Lawn. Be sure to bring a hammock, beach towel, or blanket to hangout until the festivities end at 10pm. Upon arrival, you will find recreational games, food trucks, tie-dye, a chalk art center, and a 30ft-tall super slide! Our professional stage will showcase our awesome lineup throughout the day. Enjoy a variety of genres including alternative, hip-hop, electronic, and rock-based sounds.

This will be the first all-out live Lawnstock since 2019! And we're bringing it back with a BANG! Join the 9th year of this Western campus tradition, going on since 2013.

This mega lineup includes...

Naked Giants, TeZATalks, 49th Parallel, Beautiful Freaks, i///u, and Hockey Teeth.

No RSVP necessary. Take a break from studying for finals and stop by for a good time!
One aspect of Lawnstock is that it also acts as a food and clothing drive for our local charitable organizations! If you want to get a free Axolotl hat, simply bring a bag of clothing or non-perishable food donations to Lawnstock. Make sure to get there early because stock is limited!

Or try us on Instagram or at as.productions.marketing@wwu.edu
Lineup
Naked Giants
TeZATalks
49th Parallel
Beautiful Freaks
i///u
Hockey Teeth
Activities
At Lawnstock, we'll have chalk, tie-dye, a photo booth, an inflatable hamster ball track, and a 30-foot tall super slide!
Art Market
Make.Shift art space is joining us for Lawnstock! They'll have paintings and sculptures for sale from several local artists as well as merch (shirts, stickers, etc.) for sale to support their programming!
Merch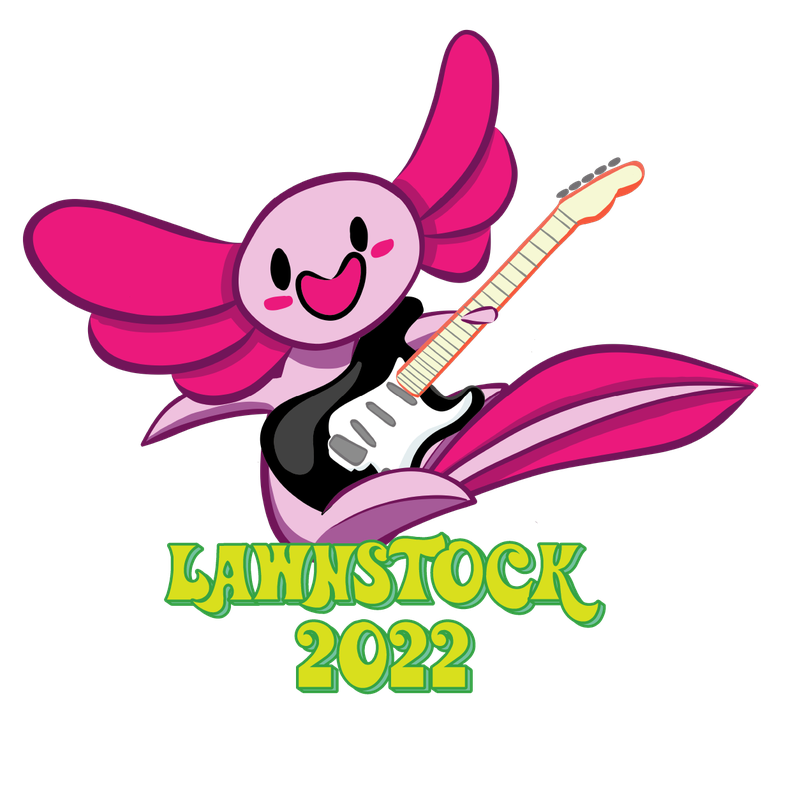 Say hello to this year's Lawnstock mascot, Axel the Axolotl!
Name: Axel
Pronouns: He/They
Height: 9"
Weight: 5 ounces
Axel moved from Mexico City to start his college career in Bellingham at Western Washington University. He's currently finishing up his Freshman year with a major in Audio Engineering. In his free time, he likes to shred on his electric guitar while relaxing on his flamingo floatie in the fountain in Red Square. His biggest dream is to one day perform at Lawnstock.
For a chance at a free hat featuring Axel, be one of the first 300 to arrive at the event with a grocery-sized bag of clothing or non-perishable food to donate.