Infofair
Welcome to the Fair!
---
Each year, the Associated Students of Western Washington University coordinates the AS Fall Info Fair. The Fall Info Fair is a part of the Western Welcome Week program, introducing new students to student activities and services on-campus. The Fair also welcomes returning students to campus for a fun celebration before the start of a new academic year. At the Fall Info Fair, students will learn more about the hundreds of on-campus clubs and student organizations, local businesses, and campus organizations that work closely to support student success. We look forward to seeing you virtually at this year's Fair!
From the AS Fall Info Fair 2019:

How do I attend?
---
The AS Fall Info Fair will be held across two days
September 20, 2021 and September 21, 2021.
More information about the event will published in summer!
Win BIG!
---
The first 250 students who participate in the Virtual Fair each day (so 500 students total) will have the opportunity to win a prize and enter to win the big prize of $100 to the AS Bookstore (one big prize each day). To win, students can complete a form during the fair.
Help Desk
---
This year's Fair will feature a virtual Help Desk that individuals can access to troubleshoot, ask questions, or learn more about the event or Associated Students.
Thank You!
---
The Associated Students of Western Washington University extends a warm thank you to our numerous generous sponsors. Sponsors of this year's virtual Fair are listed below with information each business/organization provided for students.
Listed information should not be construed as an endorsement of individual organizations by the Associated Students of Western Washington University. All information was provided verbatim by individual sponsors.

Last year's sponsors:
Pizza Time
---
Pizza Time has generously provided the following coupons for students Coupons for Pizza Time (expires 12/31/2020) and another set of coupons here.
Community Food Co-op
---
Two locations: 1220 N Forest Street (corner Forest and Holly streets) and 315 Westerly Road (corner of Cordata Parkway and Westerly Road)
Open daily: 8 am to 9 pm
Connect with us: Facebook, Instagram, or communityfood.coop
Everyone is welcome to shop at the Co-op! WWU students get 5% off every Wednesday! Enjoy our organic coffee and smoothie bar, housemade healthy deli food, and fresh grab-and-go options.
Shop online or in-store.
Hillcrest Church
---
Hillcrest Church is just a mile off Western's campus down in historic Fairhaven. Our mission is to Love God, Grow Together, and Care for the World. We have a long history of connection with Western, with students, administrators, and professors all calling this their home church. We'd love for you to consider making Hillcrest your home church during your time at Western!
Come check out our Student Welcome Page to learn more about who we are and how you can get connected: http://www.hcbellingham.com/about-us/student-welcome/
Also, we have been connected with Campus Christian Fellowship for over 40 years. Check their page out here: https://www.ccfministry.com/
You can find us at
1400 Larrabee Ave.
Bellingham, WA 98225
(360) 733-8400
Whatcom Land Trust
---
Learn more about Whatcom Land Trust here:
https://www.youtube.com/watch?v=dhh0UU9O7OA&ab_channel=WhatcomLandTrust
https://www.whatcomlandtrust.org/
Ekklesia
---
Ekklesia is a community of young adults seeking to experience God's kingdom as it is in heaven. Interested in learning more? Join us in person on Wednesday nights or virtually through our website ekklesiabellingham.com
We are located in Downtown Bellingham just a short walk from Western's campus.
We also hold weekly small groups that you can sign up for on our website.
For any questions you can't find through our website, email ashleyr@ctk.church and we'll get back to you with more info!
Whatcom Transportation Authority
---
Whatcom Transportation Authority (WTA) provides public transportation services throughout Whatcom County, Washington. Our services include Fixed Routes, Paratransit, Zone Service and a Vanpool program.
WTA's mission is to enhance our community by:
Delivering safe, reliable, efficient and friendly service
Offering environmentally sound transportation choices
Providing leadership in creating innovative transportation solutions
Partnering with our community to improve transportation systems
Track your bus in real time, find your nearest stop, view our route map, and plan your upcoming trips by downloading the BusTracker app.
We are currently working on WTA 2040, which is WTA's long range transit plan. Please visit wta2040.org to find more information about the plan.
Contact information
4011 Bakerview Spur
Bellingham, WA 98226
(360) 676-7433
Xfinity
During the Fair, chat with an Xfinity representative at their virtual booth here: https://meet.google.com/syp-dkek-ppk. At their booth, ask to complete their form to enter to win an iPad!
Xfinity On Campus Service (XOC)

Get Do you live in campus housing? Use your school login to access a whole library of new content! Stream live TV, watch thousands of shows and movies, and enjoy 20 hours of DVR storage. Download the Stream app and set up your Xfinity On Campus account today!

Xfinity Student-Exclusive Offer

Get an student-exclusive offer today! Whether you need insanely fast WiFi for the big final or the big finale, Xfinity has got you covered. Get started with this amazing offer on reliable internet including a $150 Visa gift card and 6 months of free Amazon Music.
Also, check out their video here!
First Congregational Church
First Congregational Church of Bellingham welcomes you to Western! We are a LGBTQ+ welcoming church committed to the long-term work of anti-racism, peace-making, and building a more just and inclusive world. Right now we only worship online, so it's pretty easy to check us out if you're interested. Live worship Sundays at 10am (and recorded worship other times!) facebook.com/fccbucc
More info at the church and contact info if you'd like to chat with a pastor at www.fccb.net
Village Books
Village Books and Paper Dreams is a community-based, independent book and gift store located in Fairhaven Village just minutes from the WWU campus. Find new, used, and bargain books, local hiking and guide books, journals, the hottest fiction and relevant non-fiction. Stop in and check out our great variety of treats, cards, t-shirts, hats, apparel, stickers, and so much more!
Open Daily
1200 11th St. in Historic Fairhaven, Bellingham, WA 98225 • 360-671-2626
and 430 Front St., Lynden, WA 98264 • 360-526-2133
Social Media: Facebook, Instagram, Twitter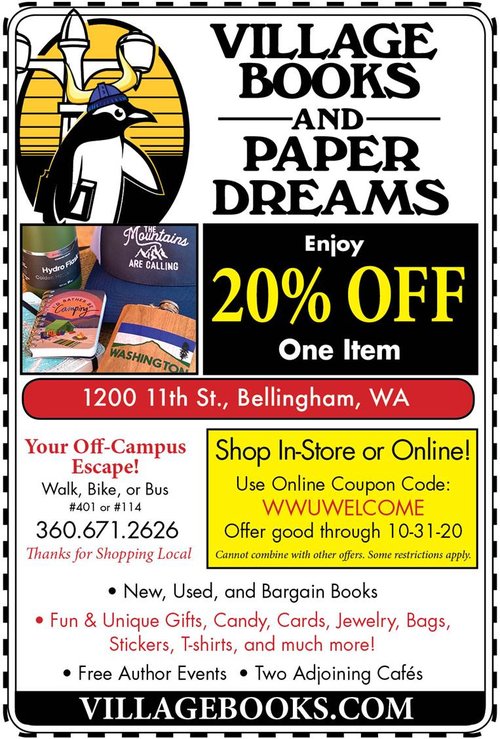 Bibles for America
During the Fair, stop by Bibles for America's booth by clicking here. The Zoom meeting information is, as follows:
Meeting ID: 892 4611 5349
Passcode: 327242
Check out their mission, free study bible, free booklets, gospel videos, and digital tracts.
St. James Presbyterian Church