Infofair Clubs
Clubs at the Fair
---
Having clubs and student organizations at the Fair is an opportunity to connect new students with campus life. The Fair has historically featured many of the Associated Students' 200+ student organizations and groups have used the Fair to facilitate recruitment and marketing efforts. Typically, space at the in-person Fair is limited, however, this year we hope to see participation from all of our amazing clubs and student organizations. Directions on how to participate in the Fair for clubs is included below.
How to participate
---
Highly recommend but not required - Talk with your members about if you want a virtual meeting room for folks to interact with you, this is simulating someone walking up to your table. If you remember the Info Fair, you could really only have 2 people at a table and you shared that with another club, shouting over one another. Now you can have the whole club if you wanted and only chat with those who are most interested in you! This can be Zoom, Teams, Discord, Skype, etc, what ever works best for your club members. Set up a room/meeting now and that have a link ready.
Required - Create a summary of no more than 200 characters for a description. If you go to your About section (through the management view), you can copy and paste that one but it will need to be even shorter, or create something new. I recommend using Word and when you highlight your paragraph, at the bottom left corner you'll see how many words you have typed – click on that and you'll get more info including how many characters (with spaces) you've typed.
In your management view, you'll now see the option to sign up for the two days of Info Fair. If you haven't re-registered your club for next year, you can still sign up for Info Fair and re-registration will remain open.


What the Fair looks like on WIN
---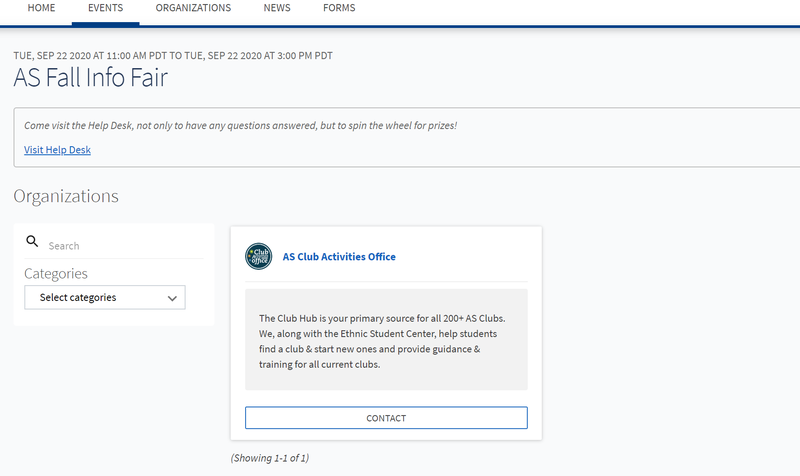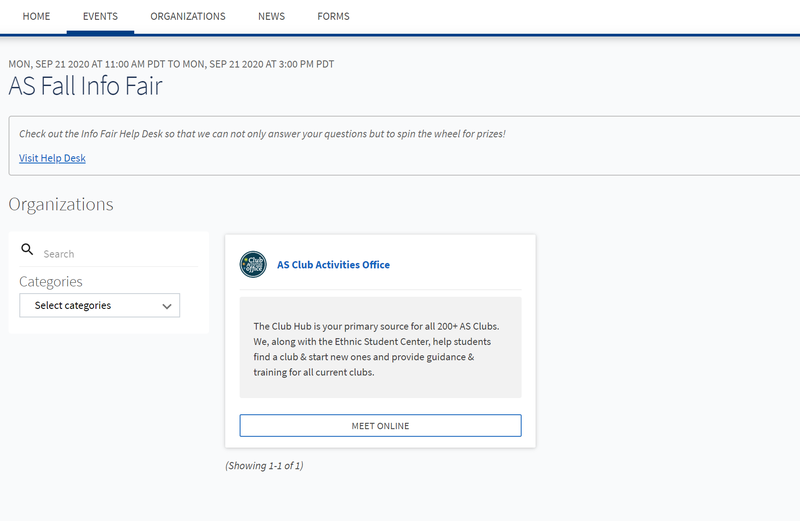 Take a look at the two, above-embedded pictures – "Meet Online" and "Contact." The fair will have the Club Hub plus everyone who signs up. Participants can search or narrow down by a category (just like searching the Organizations tab) and this simulates walking through all of the tables. If you provide a link, the Meet Online button will show and will take folks to your meeting room. If you don't put anything, it will show the Contact button, which takes them to a quick form to reach out to you. They will choose one of a few "Subjects" for the message such as interested in getting involved and then write you a message. That will be sent to the Primary Contact of your club (that is who we send emails like this to). They can also click on your name and it will take you to your site in WIN to see more info.


Other Activities during the Fair
---
The AS will also have a Help Desk available for questions (we'll have a Zoom room) and we plan to have some kind of interaction such as a spin wheel for prizes, trivia game, speed friending, etc (the planning team is working on that now). This is meant for participants but you are welcome to stop by, say hi, and get some prizes too!


Tips for your club
---
You don't need to sign up for both days, you have the choice to pick one or the other. But, if you are hosting a meeting room, be sure to have someone there the whole time! The fair runs 11am-3pm PST so if you need to have shifts, work that out with your club members.
Take some time to update your WIN site before September 21, especially if you don't have a profile pic yet. Add photos to your Gallery, create Events for your meetings and events, update your description if you need to, including a welcome message or highlights reel (just link a YouTube video and it will embed it there), add a News post about your new leaders, etc.
If you were going to have a flyer at Info Fair, you can add that to your Documents section and direct folx there from the description.
If you are using Zoom, sign in using Google with your Western account and you will have unlimited time (not the 40 min limit) for your meeting
If your video chat room (such as Zoom) needs a passcode to enter, be sure to include that with your summary
If no one is available for the chat room, you can just not enter a URL and it will still provide a Contact button so that students can ask you questions through email instead.
If you are only available for portions of the fair for a chat room, write that in the summary.
If you need to make any changes, just email that to me or Travis and we can update it for you.
You have until the day before, so September 20, to sign up!