Zero Waste Western

About Us
Zero Waste Western is a program through the AS Recycle Center that collaborates with the WWU community to provide responsible waste sorting education and implement facility changes to reduce waste. The team conducts waste audits on university garbage, recycling, and compost systems to increase awareness of the environmental, social, and economic impacts of waste. Zero Waste Western educates community members through presentations, social media, and workshops.

Get Involved
Instagram: zero.waste.western
Waste Sorting Guides: https://as.wwu.edu/recycle/guides/
Zero Waste Practices: Reduce Waste

Clothing Swap:
Like to thrift? Like FREE stuff? Have clothes or accessories you no longer want?
If you answered yes to any of these questions, donate your items to the FREE WWU Sustainable Clothing Swap! Hosted by University Residences Sustainable Living and Zero Waste Western.
March 4th from 5pm - 8pm in the VU Multipurpose Room. Attend for a chance to win a gift card to a local Bellingham thrift store!
How it works: Leave an article of clothing (or any other accessory) and take an article. Learn about sustainability and conscious consumerism at the same time! All leftover clothing and accessories will be donated to local not-for-profit organizations.
**Please wash your donations**
Let's combat fast fashion together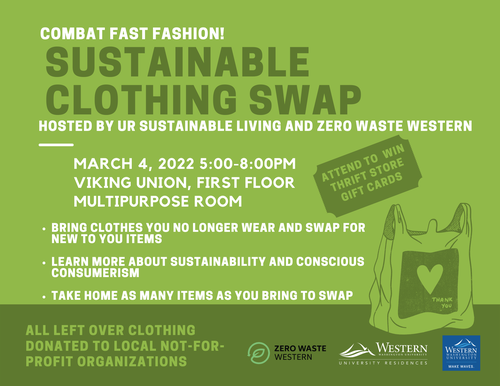 Contact Us
Zero Waste Coordinator
Shelby Johnson
Zero Waste Coordinator
Kait Schultz