Legal Information Center
Welcome to the Legal Information Center
At the Legal Information Center we are dedicated to helping students know their rights, understand their options, and find solutions to legal questions (landlord/rental, MIP, DUI) they face. 
Contact
---
Come by Viking Union 474 for peer advising
Join a Legal Info Center event (Know Your Rights, Rental Clinics, and more) to ask questions and hear from experts.
Services
---
Outreach and Events
The LIC coordinates and sponsors several events through out the year to help students engage with legal issues on and off campus. Check our Twitter and Facebook pages to stay up-to-date!

Peer Advising
Come by VU 517 during our office hours or send us an email to make an appointment. We are available to listen to legal issues (such as landlord problems, MIP, DUI, and more). We can provide resources and contact information to help get your problems solved.
We are located on the 5th Floor of the Viking Union

Law Library
We have a large selection of legal books, DVDs, and LSAT prep materials. 
Resources
---
Off-Campus Living Guide
Provides students with information about how to rent off campus, deal with landlords, find roommates, and become more aware of Bellingham laws.
http://www.wwu.edu/offcampusliving/index.shtml

Your Rights as a Tenant in Washington State 
A simplified version of the Residential Landlord-Tenant Act
http://www.washingtonlawhelp.org/resource/your-rights-as-a-tenant-in-washington?ref=wMGV9

LAW Advocates 
Provides free legal help - including advice, representation and other assistance - for low-income individuals and families facing urgent non-criminal legal problems.
http://www.lawadvocates.org/

Campus-Community Coalition
Works to promote collaboration among area colleges to improve health, safety, and quality of the community.
http://www.campuscommunitycoalition.com/

Sample Documents
Landlord Repair Letter Use this form to request a repair from your landlord in writing
Parking Info Brochure Use this brochure to learn about parking rules in Bellingham
Dealing with Police
---
What are my rights when dealing with a police officer?
Right to remain silent (If you wish to exercise that right, say so out loud)
Refuse to consent to a search of yourself, you car, or your home
If you are not under arrest, you have the right to calmly leave
Right to a lawyer if you are arrested (Ask for one immediately)
Constitutional Rights (regardless of immigration or citizenship status)
What are my responsibilities when dealing with a police officer?
Stay calm and be polite
Don't interfere with or obstruct the police
Do not lie or give false documents
Prepare yourself and your family in case you are arrested
Remember the details of an encounter

What do I do if I am stopped for questioning?
Stay calm: Don't run or argue. Don't resist or obstruct police, even if you are innocent. Keep your hands where the police can see them
Ask if you are free to leave: If yes, calmly and silently walk away. If you are under arrest, you have a right to know why
You have the right to remain silent: You cannot be punished for refusing to answer questions. Tell the officer you are exercising your right out loud.
You do not have to consent to a search: of yourself or your belongings

What do I do if I am stopped in my car?
Stop the car in a safe place as quickly as possible
Show the police your driver's license, registration, and proof of insurance
You can refuse to consent to a search of your car (If police believe your car contains evidence of a crime, they can search it without your consent)
Both drivers and passengers have the right to remain silent

What do I do if I am questioned about my immigration status?
You have the right to remain silent and do not have to discuss your immigration or citizenship status
If you are not a U.S. citizen and an immigration agent requests your immigration papers, you must show them if you have them with you
Do not lie about your citizenship status or provide fake documents
Property Owner (Landlord) and Tenant Information
---
The LIC is a resource for providing students with information or directing towards next steps. However, the LIC cannot give legal advice or consultation (we're working on that), as a student run office.

What are some red flags to look for when getting ready to rent?
Are there serious building code violations in the house?     
Was the property owner difficult to contact?       
Did the property owner give tenants 24-hour notice before showing the house?

What is legal in a lease?
The property owner cannot put a term in an agreement that
Waives any rights given to tenants by the Landlord-Tenant Act
Makes you give up your rights to defend yourself in court
Limits the landlord's accountability
Says the property owner does not have to make repairs
Allows the property owner to enter the rental unit without giving you proper notice
Requires you to pay for damages you do not commit
Says you have to pay the property owner's lawyers' fees if an argument goes to court, even if you win
Allows the property owner to take your things if you get behind in rent

What are the deposits and fees that I can be charged?
Security Deposit: charged by the property owner that is used to cover any unpaid rent or damages (see more info in Q4)
Screening Fee: Property owner uses to order a background check on you
Application/Holding Fee: a fee that the property owner charges to hold the place for you until you sign the lease (If you do not rent the place, the property owner can keep your deposit! If you do rent the place, then the fee must be applied to your security deposit or first month's rent)
Damage Deposit: Property owner collects to cover damage that might occur to the property
Cleaning Fee: the property owner collects this to pay for cleaning after the tenant has left
Last Month's Rent: can only be used for the agreed upon last month's rent, so if you move out early it must be refunded

How can I get my security deposit back?
Before moving in, get a written rental agreement, condition check-in list, and a receipt for your deposit from the property owner, property owner's agent, or the manager.
Before moving out, give proper written notice and your forwarding address to the property owner or manager.
After cleaning, take pictures or video. Have a witness inspect your residence and take notes.
Move out. Wait fourteen days for a deposit refund and/or an itemized statement of any amount the property owner will not give back. If your landlord doesn't respond within 14 days, there is legal action you can take (check the infographic below for more info)

What are my responsibilities as a tenant?
Pay your rent and utilities as agreed
Restore the place to the same condition as when you moved in, except for wear-and-tear
Keep unit clean and dispose of garbage
Properly use plumbing, electrical, and heating systems
Follow city, county, and state regulations

How long should my property owner take to make repairs on my rental after I provide them with a written request?
If your property owner does not begin repairs in the required amount of time, you can take legal action
24 hours: when the condition deprives the tenant of hot or cold water, heat, electricity, or is hazardous to life
72 hours: when the condition deprives the tenant of the use of a refrigerator, range and oven, or a major plumbing fixture supplied by the property owner
10 days: in any other case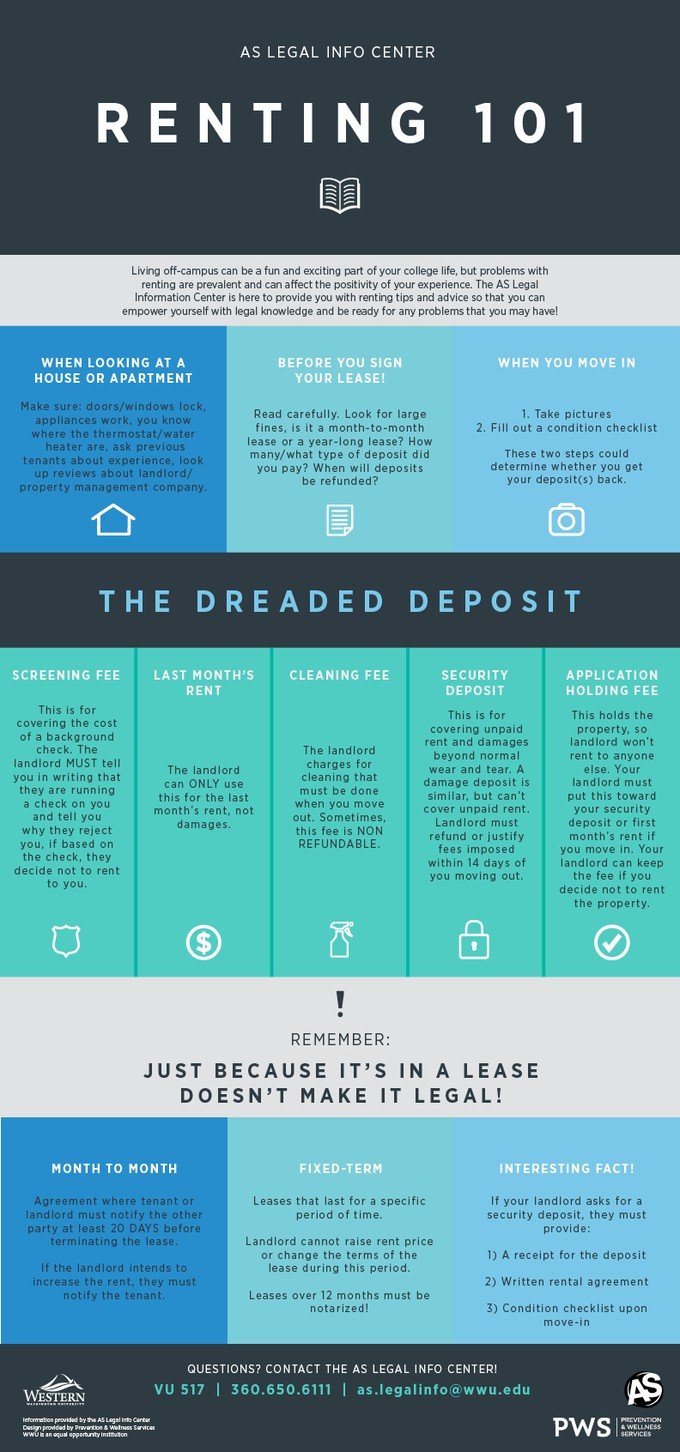 Staff
---
Anna Omolade Iyun
Coordinator