Local Issues
Help you represent your community, get involved with local politics and keep informed!
Become a Community Ambassador
---
Mission The Community Ambassador Network (CAN) is a student-collective of community-builders; amplifying student voice in Bellingham's Neighborhood Associations, engaging students in local issues , and promoting health and well-being in our communities.
Civically Engage Learn the Local Issues where you live. Increase livability by supporting inclusive, vibrant neighborhoods. Advocate for students by building a broad coalition of sustainable partners who will unite Bellingham's intersectional needs.
Boost Your Resume Collaborate with diverse partners among the student body and throughout Bellingham. Exercise critical-thinking, community development and professionalism in an ever-changing, yet familiar environment. Gain experience in meeting rules and facilitation skills. Refine your ability to successfully plan and advertise events.
Low Commitment About 8 hrs/mo, sitting on your Neighborhood Association Board, connecting WWU, Bellingham Technical College (BTC), Whatcom Community College (WCC) and Northwest Indian College students to Bellingham Neighbors. Plan one event per quarter and receive supportive peer assistance from your CAN cohort.
Local Politics
---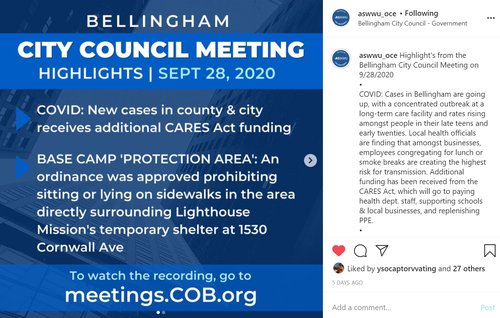 "A Renaissance of Localism" resilience.org
"When Washington can't get things done, go local" Detroit Free Press
Opinion: "The Localist Revolution" The New York Times
"Make Way For the Localist Revolution" The Seattle Times
"Can 'Localism' Restore Sanity to U.S. Politics?" The New York Times
Attend City Council
Attend County Council
Contact Your Representatives
Local News
---
Contact Us
---
Natale Szabo (She/Her/Hers), ASWWUOCE Local Issues Coordinator
Office Hours over Microsoft Teams & Zoom: 10AM-12PM Monday-Friday