VU Gallery
The Viking Union Gallery is a student-curated exhibition space sponsored by Western Washington University's Associated Student Productions. Our primary focus is to contribute to the artistic culture of Bellingham by displaying a diverse range of artworks to students and the local community.

For questions or concerns, please contact Noah Gray, the VU Gallery Director at as.gallery@wwu.edu
The VU Gallery is located in VU 507 and open Monday - Friday, 11am to 5pm during exhibitions.
Upcoming & Current Shows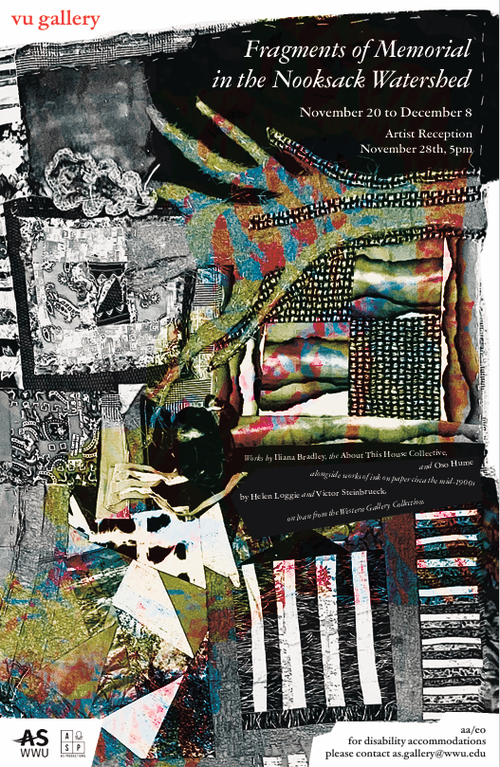 Fragments of Memorial in the Nooksack Watershed - 11/20-12/8
Settler-Colonialism is not a finite historical event, it is a process that remains ongoing-- visible even when we have been taught to close our eyes. Seldom do scholarly attempts bring the various narratives and associated traumas into dialogue. Art is a means to inhabit this marginal space.
The exhibition presented here asks us to participate actively in disrupting the movements and marks of extraction, dispossession, and erasure; opening dialogue for confronting memory, recognition, & representation through a variety of forms and mediums.
The works:
Analogues of Latency: Exposures in the Unborn (2023) by Iliana Bradley
About This House (2022) by the "About This House" Collective
TMX: Crossing Bodies (2023) by Oso Hume
Exhibited alongside works of ink on paper circa the mid-1900s by the artists Helen Loggie and Victor Steinbrueck, on loan from the Western Gallery Collection. Depicting the industrial extraction and structural settlement of our bioregion, we are asked to consider historical and cultural visibility in so-called Bellingham.
The opening reception will be Tuesday November 28th at 5pm, with artist's talk and light refreshments.
Previous Shows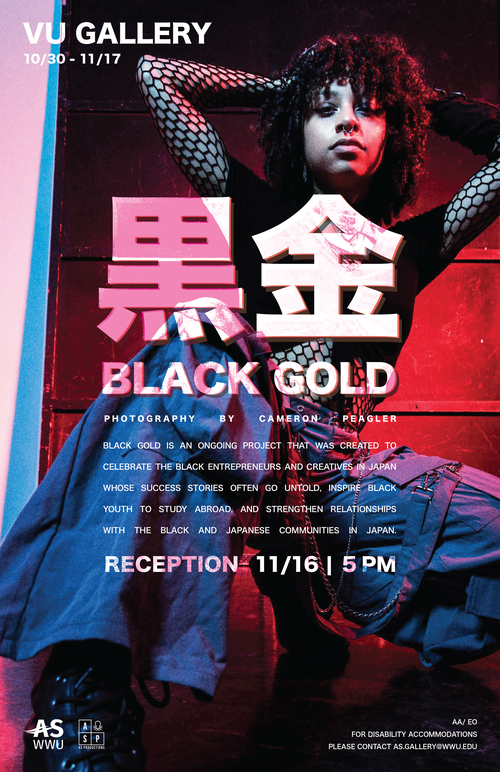 Black Gold - 10/30-11/17
Cameron Peagler's Black Gold 黒金 show in the VU Gallery!
As a former registered nurse now working as a photographer in Japan, Cameron Peagler works towards supporting those in need and building international cooperation. With Black Gold "黒金'' Peagler aims to do just that by increasing the amount of Black students who study abroad, celebrating Black community members in Japan whose success stories are often unheard, and creating a stronger relationship between Japanese and Black communities. The project includes portraits and interviews of Black creatives and entrepreneurs throughout Japan including interviews conducted next to each portrait.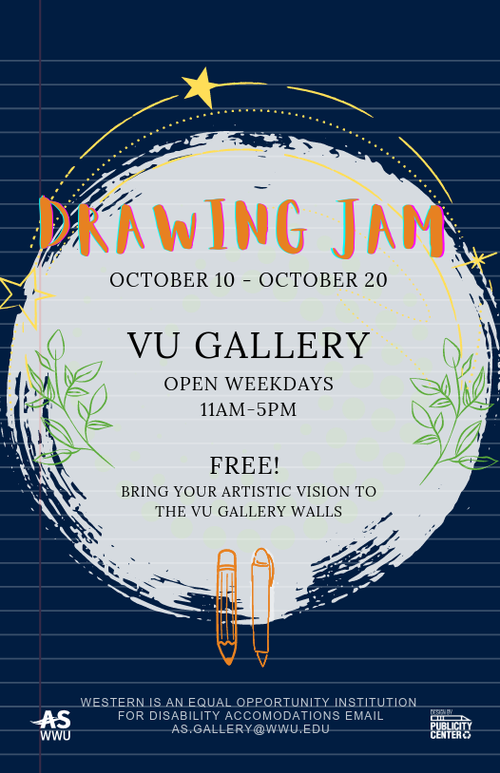 2023 Drawing Jam - 10/10-10/20
Our first event of the year is the annual Drawing Jam. Come see the space and draw on the gallery walls!
2022-2023 Academic Year: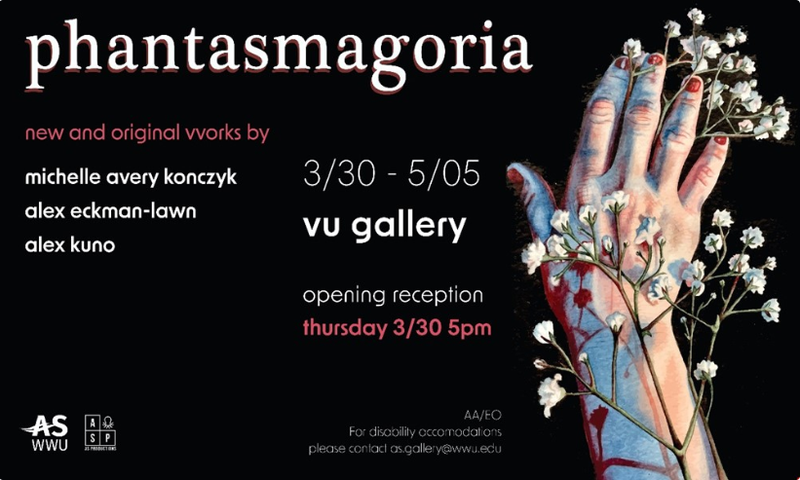 Phantasmagoria
The VU Gallery proudly presents phantasmagoria: new and exciting works by Michelle Avery Konczyk, Alex Eckman-Lawn, and Alex Kuno.
The term 'phantasmagoria' refers to illusions and frights seen in dreams and also is used to describe horror theater popularized in 19th-century Europe where disturbing images were projected onscreen. This exhibit combines different mediums including collage, watercolor, and gouache within folkloric, resonant, and haunting imagery. The opening reception for phantasmagoria is on Thursday, March 30 at 5 pm and includes light refreshments. 
The show will be open from March 30 to May 5.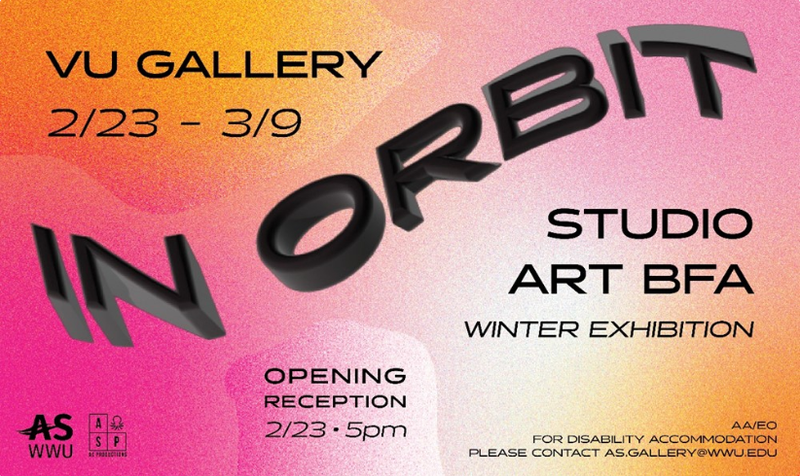 In Orbit: Studio Art BFA Winter Exhibition
The BFA artists include Mariah Deady, Alicia Gomez-Morales, Sam Hankins, Ben Herr, Tesla Kawakami, Kasey Kitchel, Ash Polk-Wheelock, Jessica Wright, Tai Vugia, and Isabella Yates.
In the VU Gallery from February 23 until March 9.
The opening reception will be at 5 pm on February 23 with Q&A with the artists and a performance from Sam Hankins
YOU SHOULD SIT DOWN FOR THIS: A SURVEY OF WESTERN WASHINGTON UNIVERSITY'S MODERN CHAIR COLLECTION
Check out this collaboration with the Western Gallery featuring works by Maya Lin, Frank Gehry, Charles & Ray Emes, and many more! 
In the VU Gallery from January 30 to February 16.
The opening reception will be held on Wednesday, February 1 at 5 pm featuring a talk from Western Gallery Director Hafthor Yngvason and light refreshments.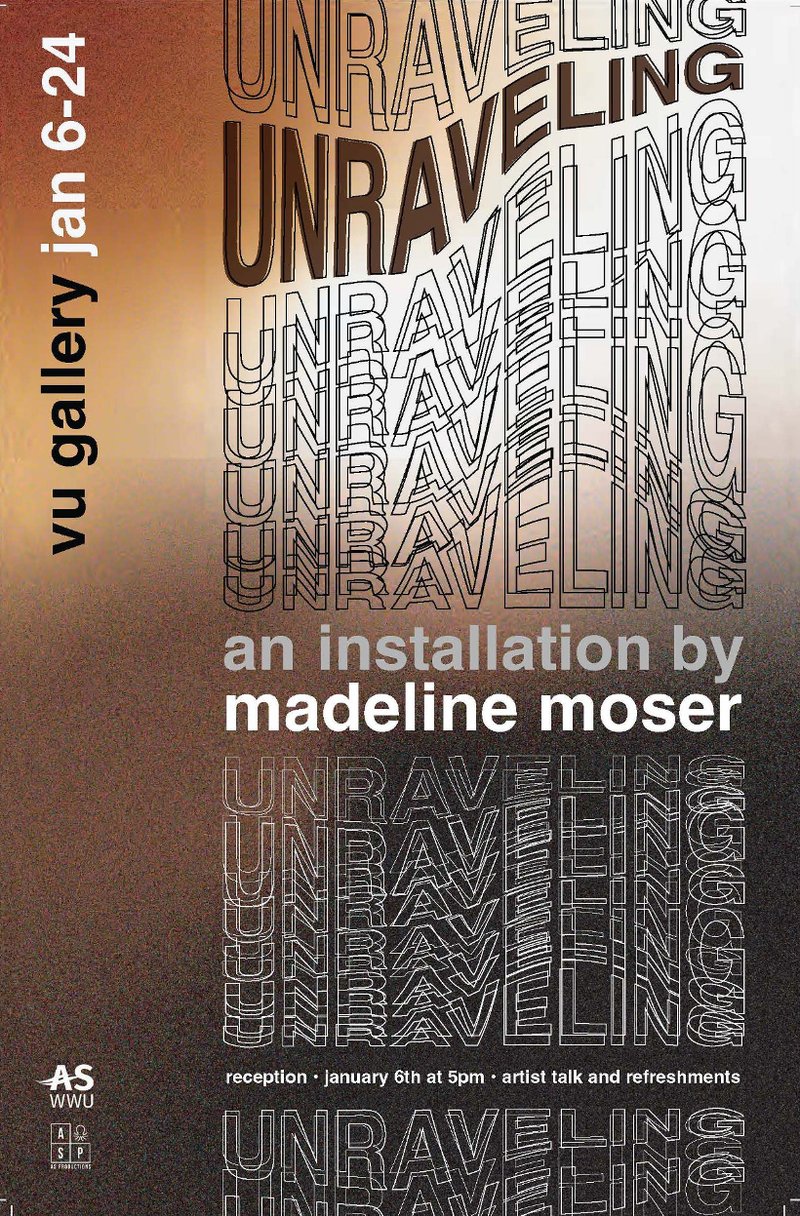 UNRAVELING: AN INSTALLATION BY MADELINE MOSER
Local artist and Western Alum Madeline Moser returns to the VU Gallery to create a grand scale installation of stunning feat. Moser explores themes of transformation, disorientation, and malaise through sinuous and volcanic threads combusting and contorting into warps of chaos.
The sculpture artist will be discussing this ephemeral piece in an artist talk on January 6th at 5pm followed by a reception with light refreshments. The installation remains on display until January 24th.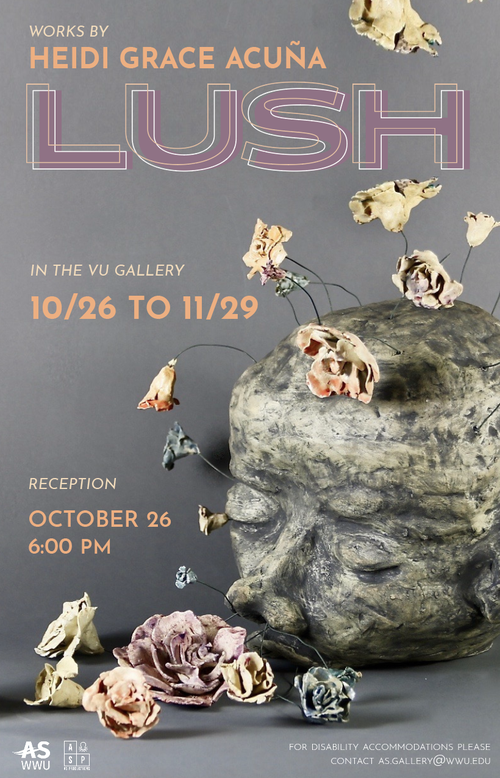 LUSH: WORKS BY HEIDI GRACE ACUÑA
The VU Gallery proudly presents LUSH, a solo show comprised of works by Seattle artist Heidi Grace Acuña. 
The multidisciplinary artist crafts work that explores their relationship with culture, location, and gender. Acuña explores dualities of acceptance and confusion, body and soul, beauty and pain, traditions and modernity. The materials of paper, cardboard, fabric, and clay mimic the characteristics of being strong and fragile, simple and complex, common and unique.
LUSH will be on display at the VU Gallery in VU 507 from October 26th through November 29th. There will be a reception and artist talk with Acuña on October 26th at 6pm featuring free snacks & refreshments.