Outdoor Center Staff
Coordinators
---
Bella Bedard - Equipment Shop Coordinator
Parker Eckardt - Marketing Coordinator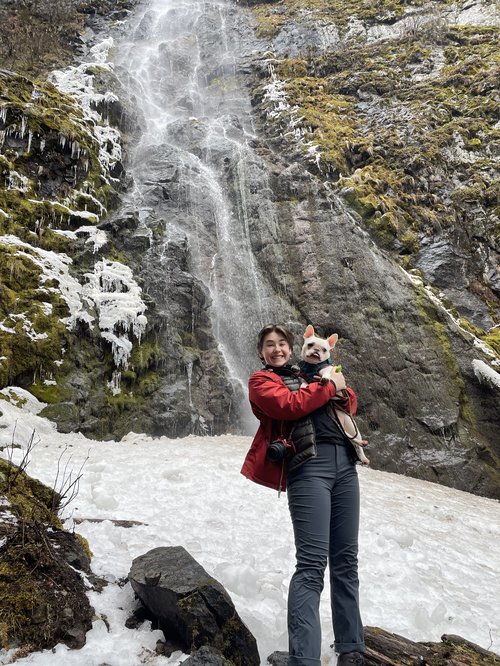 Hiyo! I'm Parker (she/her) and I'm originally from the Chicago area but I've been in the beautiful PNW for a few years now, where I've spent a ton of time hiking and backpacking in the incredible nature that surrounds us. I'm currently double-majoring in Spanish and Environmental Studies, and minoring in Dance and Latin American Studies! Some things that I love include photography, soup, dancing, my friends, and pickles. I'm also learning to play the banjo! So super excited to help welcome you all into the Outdoor Center, come say hi!
Kateri Rinallo - Excursions Co-Coordinator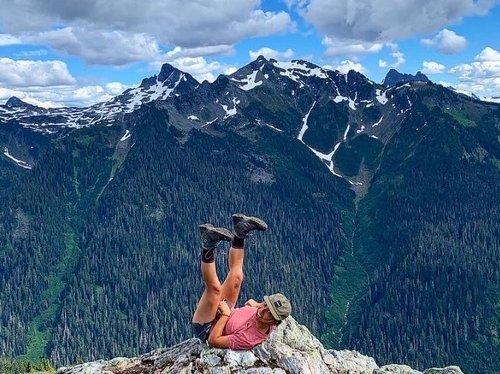 Hey y'all! My name is Kateri (she/her) and I am studying Elementary Education with a focus on Language, Literacy, and Cultural Studies. I grew up near the water and often joined my family in sailing, kayaking, crabbing, and biking. Whether it has been on the trails backpacking or running, water via boat, two wheels, skis, or snowshoes, I am grateful to be a guest on this beautiful land. Community is vital to me and I am stoked to build a culture of inclusion here. I passionate about making sure everyone has access to the outdoors and is able to find their space within outdoor recreation. Come say hello anytime, you may find me at the outdoor center sipping my favorite oatmilk chai tea :)
Britta Sloan - Excursions Co-Coordinator
Trip Leaders
---
Camille Wood-Foucar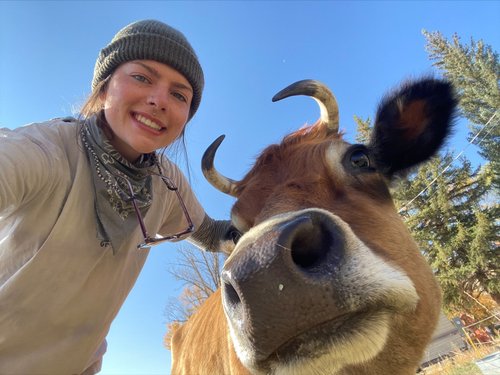 Howdy! I'm Camille (she/her) and I come from the Montanan Rockies. I have since found home in the PNW and the Cascades. I love sunshine, mountain scapes, alpine lakes, headstands, rocks and snowflakes. I'm grateful to be here and part of this community and oh so stoked to share awe and adventure with you all moving and grooving and appreciating this incredible planet we call home!
Katrina Doerflinger
Hello! My name is Katrina and I use she/her/hers pronouns. I am majoring in Environmental Science. My passion for the outdoors stems from its ability to give me perspective. Spending time outside allows me to take a step back from a busy technological world and center myself on what really matters. As a trip leader, I want to help others gain this same big-picture perspective and explore what really matters to them.
My main areas of interest in outdoor recreation are whitewater rafting, backpacking, and alpine skiing. In the coming years, I hope to gain more experience in mountain biking, climbing, and trail running. Hope to see you at the OC!
Maeve Monahan
Hi there! My name is Maeve (she/her) and I'm in my second year at Western. I'm working on a Fairhaven concentration that centers community building in outdoor program development. I grew up in a tiny little town outside of Missoula, Montana. As an only child, I had to find ways to entertain myself, so I spent most of my free time building forts by the river with my dogs. I spent my winters at Discovery Ski Area where my dad was the ski patrol director; taking full advantage of the warm patrol shack to eat my lunches (and cookies) in. Nowadays you can find me equipped with chapstick, a bottle of ranch, and way too many lists. I'm stoked to be working as a trip leader and encouraging others to try something new outside, putting the emphasis on fun and friends!
Nico Ryden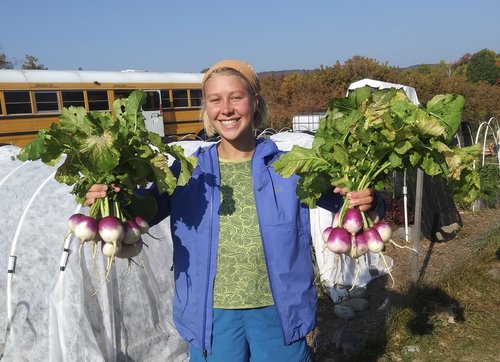 Hello everyone! My name is Nico, I use she/her pronouns, and I am hoping to study
Place-Based Education, Regenerative Agriculture, and Food Sovereignty at Fairhaven.
Outside of these areas of study, I absolutely love searching for lichen, doing
fermentation projects, connecting with local ecosystems, and unleashing the inner child
with other people while doing so! A fun fact about me is that I once lived with a snail the
size of my foot! I am very excited to meet you all, let's explore and climb trees together!
Ruthie Yawney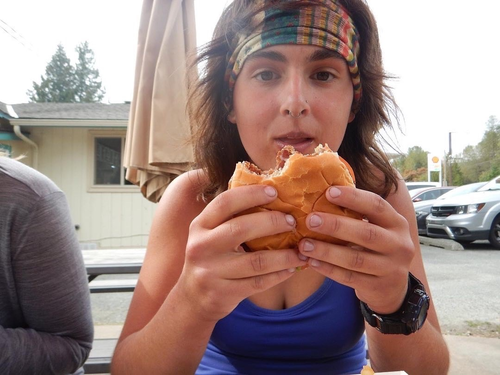 Hey! Hello! Hi! My name is Ruthie, and my pronouns are she/her/hers. I'm a Junior currently working through the Recreation Management and Leadership major with a focus on Outdoor Rec. Some of my favorite outdoor things include swimming in glacier lakes, whitewater rafting, backpacking, dancing, and skiing. I'm super stoked to run around the pnw and go on some classic OC adventures with you guys! Outdoor adventure helps me to feel alive and I'm basically head over heels in love with it. I can't wait to learn, play, and get after it with all of ya! 
Fun Fact? I love goofin around
Zoe Cowan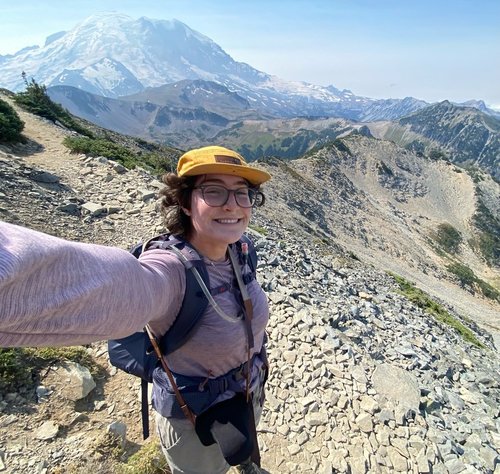 Heyo, I'm Zoe (she/her)! I grew up on the magical coast of Northern California and I'm thrilled to be up here exploring the Pacific Northwest with you all. I am studying Environmental Education and live to learn and share knowledge of all the wild and wonderful plants and creatures we share the Earth with! I love eating peanut butter, brewing kombucha, and birdwatching, among other things. I'm just as happy sitting silently on a mossy rock as I am tearing down a mountain bike trail, which is to say that however you like to spend time outside is AMAZING! See ya out there :)
Rin Yow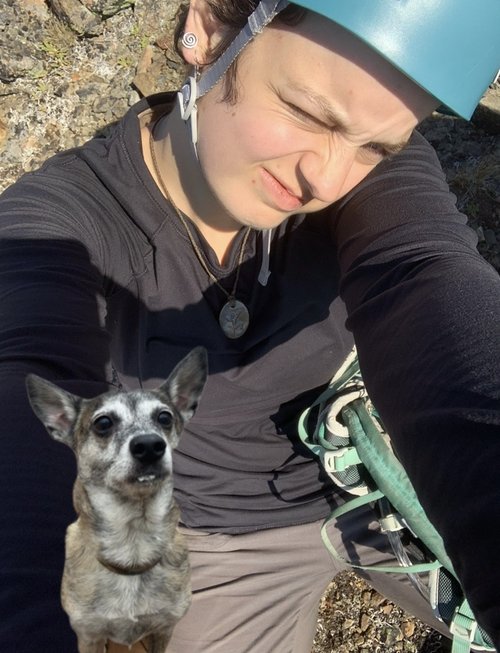 What's up! My name is Rin (She/her/hers) and I am a first year, studying recreation management and leadership (And maybe something else! Who knows? I'm still figuring it out!). My passion for the outdoors stems from a love of movement as a way to heal and connect with your body and the world around you. I believe that all movement is good movement, and whatever activity helps you get moving is rad! My favorite forms of movement are climbing rocks and mountains, playing rugby (this one is new), yoga & mobility, and walking my dog around campus saying hi to people. I am super hyped to continue helping people get outside and moving, because no matter your physical ability or experience, recreation is for you. 
If you see me walking my dog around campus, you are more than welcome to stop me and say hello :)
Abby Anderson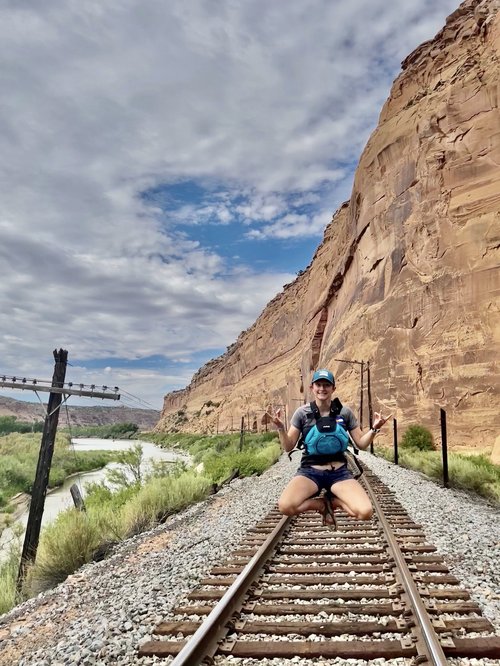 Yo yo yo! My name is Abby Anderson (she/her)! I grew up at 10,000ft in the wonderful Colorado Rockies and decided to make my way to the PNW for some stellar mountain biking! You can find me on the trail with a big smile and a pack of Welch's fruit snacks. I am aiming to get a degree in Recreation Management and Leadership with a focus on Outdoor Rec so I can spread the infinite stoke that follows any rowdy outdoor adventure. I live for biking, climbing, trail running, skiing, rafting, and can't wait to learn more together! Catch you on the flip side, and stay groovy!
Emily Freudenberger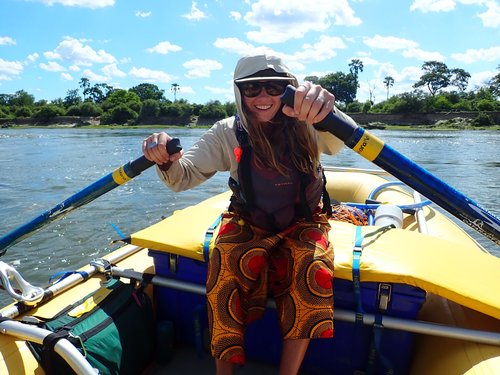 Howdy! I'm Emily (she/her), a Fairhaven student here at WWU studying the confluence of Outdoor Recreation with Trauma and Somatic Psychology. I grew up learning from the landscapes in the Flathead Valley, Montana, where I was first introduced to a life saturated in joyful wilderness. Since then, I have never stopped hootin 'n hollering my way through snowy trees, jagged peaks, or juicing rivers. It is my greatest privilege to form a connection with wild spaces and all the humans that answer its call, and I am freakin' honored (!) to help facilitate accessible and equitable positive experiences outside. I believe in tutus and glitter, mountain peak dance parties, river karma, and that it's never too late to have a happy childhood.  I am beyond excited for future romp n rolls with all you humans in our incredible home!
Riley Weeks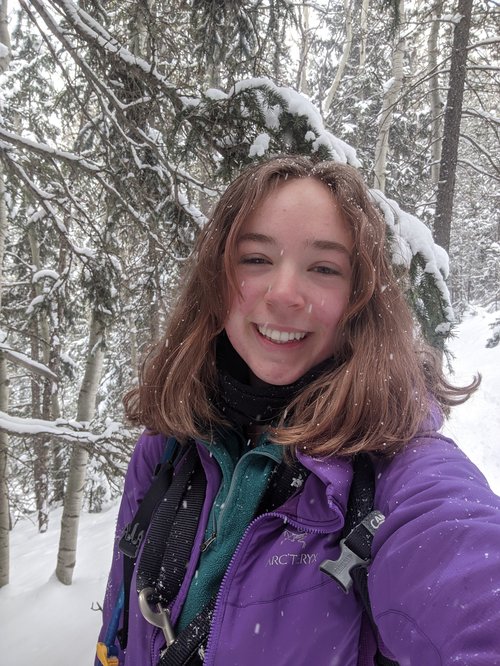 My name is Riley Weeks (she/her/hers) and I am an Environmental Studies/Journalism major with minors in American Indian Studies and Law, Diversity and Justice! I believe that everyone deserves to have access to the outdoors, which is just a part of why I am a Trip Leader. Time outdoors is time well spent, no matter if it's spending all day in a hammock or summiting a 14er. The picture above is me snowshoeing in my home state of Colorado (not pictured: my dog Finn galloping at full speed through the snow in front of me). I look forward to lots of fun adventures together!
Hilary Greenwood
Hey, My name is Hilary Greenwood (she/her) and I'm a first-year student studying Environmental Science. I am originally from Bellingham and loved it so much here that I couldn't imagine calling anywhere else my home (it's hard to beat having the mountains and the ocean all right in your backyard)! I fell in love with being outside and engaging in outdoor activities in the San Juan islands and the North Cascade mountains - engaging in type 2 fun whether it came in the form of hiking, backpacking, skiing, or mountain biking! I fell in love with thru-hiking and mountaineering while hiking the Pacific Crest Trail - learning that misadventures are the best kind of adventures, cowboy camping under the stars is where it's at, and that I'm very impressed by rocks!
Moose Abou-Harb
Hey there! My name is Moose Abou-Harb, He/Him, a first year student here at Western, hoping to major in Electrical and Computer Engineering with minors in Computer Science, Math, and Honors. I am an avid fan of hiking, and getting lost anywhere green, or with lots of moss and trees. Beyond that I am a gigantic nerd, that will happily talk about trivia, music, cooking, and my beloved cats. When not at Western, I hail from the opposite end of the state in Spokane Valley, where I was deeply involved in my school's marching band and student leadership. I aim to create an atmosphere where everyone feels welcome, included, and ready to experience all the wonderful things you can see, and all the amazing places you can go in the beautiful state we live in!
Audrey Maloy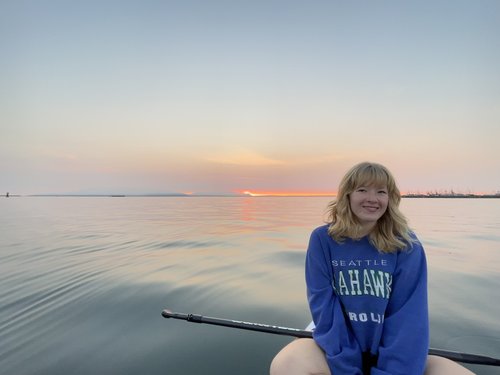 Hey! I'm Audrey (she/her), a Junior majoring in Environmental Studies and minoring in Geology! I love hiking, paddle boarding, long-distance backpacking, and hate mice. I have a passion for wool socks, fossils, and sunny days and want to be outside pretty much always.
Elena Korch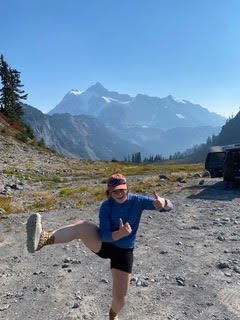 Yo yo! My name is Elena (she/her), and I'm currently interested in majoring in Environmental Science here at WWU. Growing up in Seattle, WA, I've been extremely grateful to spend a lot of epic time exploring snow-capped peaks, quiet trails and free-flowin water. On any given day you can find me jaunting around outside skiing, backpacking, climbing, hiking, playing ultimate frisbee or surfing. I believe that everyone deserves to adventure outside and form a connection to the place we call our beautiful home; I am so honored to share the stoke to help others! Catch me at the OC or out-an-about with too many snacks, a big smile and endless excitement about goofin' around.
Weakness: bringing 5 hats with me for a one-day outing...whoop
Stu Johnson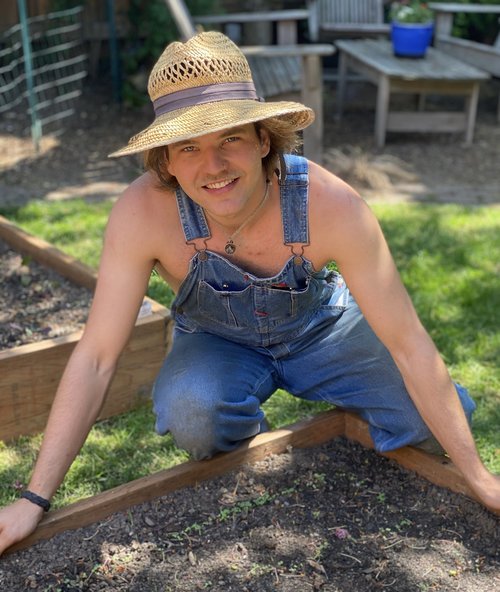 My name is Stuart Johnson, but you can call me Stu. I use he/him pronouns and am a Fairhaven student studying Sustainable Living and Audio Engineering. I am a Seattle local and began scrambling and romping around the Cascades and Olympics when I was wee. I hope to continue to do so for as long as I physically can. I get joy from bringing people into new environments and helping them push their comfort zone and personal limitations — the outdoors have so much to teach if we are willing to tune in and listen. I am passionate about creating music, herbalism, and small-scale sustainable agriculture. Hobbies of mine include sailing, SCUBA, rafting, gardening, skiing, foraging, fermenting, all styles of climbing, and carving spoons. I am a Wilderness EMT and love austere medicine. I look forward to potentially getting to know whomever is reading this on an Outdoor Center excursion — see you in the great outdoors!
Alex Kowalik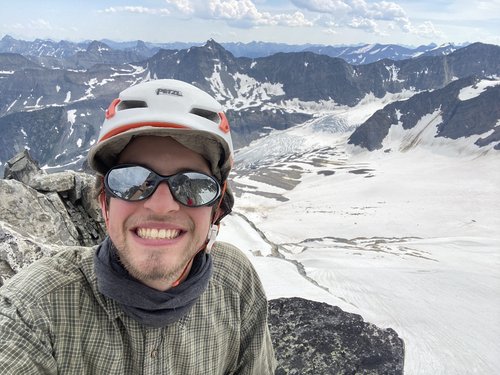 Hey! My name is Alex Kowalik (any/all), and I'm currently trying to decide between majoring in Environmental Science or Environmental studies (quite different, I know!). I grew up in Portland, Oregon, and I'm proud to call the Pacific Northwest my home. I am so grateful to have grown up surrounded by wonderful outdoor areas, and grew up making stick forts and hiking in the woods in my backyard. More recently, mountaineering has become my passion in the outdoors (partially because it takes a lot more sticks to make a fort to fit in nowadays), and it's become one of my favorite ways to find fulfillment as well as being a great way make lifelong friends. I hope to meet you on a trip sometime in the future!
Henry Tamondong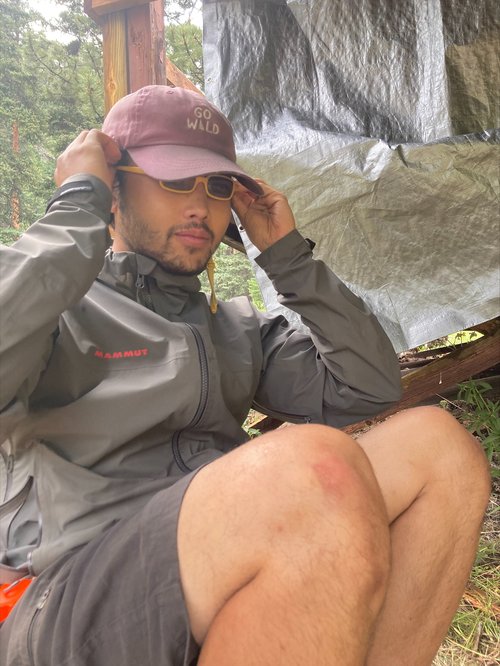 Howdy Folks! My names Henry Tamondong (he/him/his) and Im from the great city of Chicago. While I'm from the Midwest I much prefer the PNW. I'm much happier being somewhere I can enjoy mountain biking, backpacking, constant rain, and kayaking. Im super grateful to be a part of the OC and lead all kinds of trips for all kinds of people!
Bike Technicians
---

Ayden Huennekens
Will Kettle
Abby Anderson
Hayden Stearman
Front Desk Staff
---
Callie Seymour
Emma Martin