Mentoring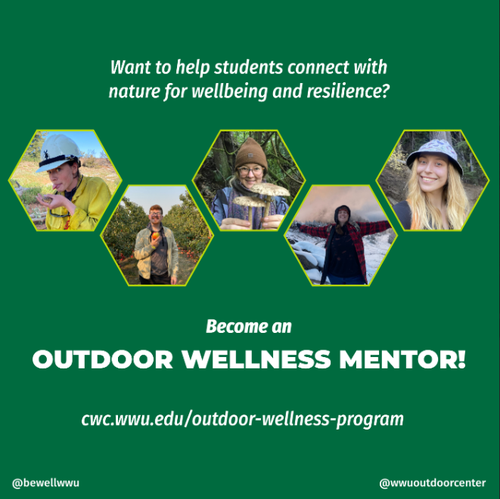 ---
Program Overview
Are you interested in learning ways to connect with nature to enhance your mental well-being and resilience? Check out the Outdoor Wellness Program!
Developed by the Recreation Management Leadership Program, the Counseling and Wellness Center and the Outdoor Center, the Outdoor Wellness Program pairs Western students with peer mentors who will work with participants during Westerns academic year to create weekly individualized nature-based experiences designed to boost their mental wellness.
Nature connection has been shown to improve mental well-being and reduce symptoms of anxiety, depression, and ADHD, and the Outdoor Wellness Program is a fun way to take care of yourself and experience that connection, rain or shine!
Becoming a Mentee!
Interested in deepening you connection to the natural world around you as a tool in you mental health tool box? Look HERE
Becoming a Mentor!
Wanting to step into a mentorship role for your peers and help Western students get engaged in nature and explore accessible green spaces around Bellingham to support overall mental health. Becoming a mentor is for YOU! This program is open to all Western students.