Outback
The Outback, a joint program of the Associated Students and Fairhaven College, is a 5 acre farm and wetland restoration site.
The purpose of the Outback OELP (Outdoor Experiential Learning Program) is to coordinate a wide range of opportunities for students to learn about, develop and implement sustainable land use practices. These opportunities include personal and collaborative events and projects involving habitat restoration, organic gardening, green building, academic partnerships, independent study projects (ISPs), workshops, lectures and classes.
The OELP also provides job-related skill building and community networking opportunities for students. These include serving on the Outback Governing Council, volunteering, and participating in work-study and salaried employment.
The Outback Farm loves volunteers and visitors!
For general inquiries please email Terri Kempton, Outback Farm Manager at kemptot@wwu.edu
For summer work party info, please email as.outback.asst.coord@wwu.edu
To learn more and keep up to date with work party times and workshops, follow us on Facebook and Instagram
The Outback Farm is located just south of the Fairhaven Residences between 25th St. and South College Way, or visit the main office in VU 424, 360-650-2433
Resources
On Campus
Learning, Environment, Action, Discovery (LEAD) L.E.A.D. strives to create environmental service learning projects through partnerships between WWU and the greater Bellingham Community. Their hard work has been an enormous help in our never-ending quest to slay Himalayan Blackberry and other invasive species at the Outback Farm.

Fairhaven College Fairhaven College forms one of the main academic connections to the Outback Farm, and supported the Outback long before the rest of WWU caught on.
Off Campus
Bellingham Food Bank The Bellingham Food Bank strives to reduce hunger in Whatcom County by providing wholesome foods to those in need. They also operate the Food Bank Farm and the Small Potatoes Gleaning Project. In 2012 the Outback Farm is beginning an organized donation program to the Bellingham Food Bank.

Mount Baker Beekeepers Association The Mount Baker Beekeepers Association is a group of hobbyist and sideliner beekeepers whose purpose is to promote the management of and interest in honeybees for honey production and pollination. They have been a huge help in establishing hives at the Outback Farm!

Sustainable Bellingham Sustainable Bellingham promotes the creating of sustainable communities in Bellingham and the surrounding bioregion.

Transition Whatcom Transition Whatcom is a community networking site for those interested in helping achieve a vision of resilient and self-reliant communities throughout Whatcom County.

Chuckanut Center The Chuckanut Center is a demonstration site of urban homesteading.

Whatcom Food and Farm Finder Learn where to get the best food in Whatcom County.

City of Bellingham Community Gardens No plots available at the Outback? Check with the COB.
For the Aspiring Farmer
ATTRA, the National Sustainable Agriculture Information Service ATTRA is an amazing resource for beginning and experienced farmers. They provide a wealth of information free of charge, and have an incredible listing of domestic farm apprenticeships.

The Greenhorns and the National Young Farmers Coalition The Greenhorns and the National Young Farmers Coalition are non-profit organizations dedicated to supporting the growing movement of young farmers in the USA.

World-Wide Opportunities on Organic Farms (WWOOF): WWOOF is a world-wide network that links aspiring farmers with established farms to provide meaningful volunteer opportunities and cultural exchanges in organic agriculture.

Tilth Producers of Washington Tilth Producers of Washington promotes sustainable agriculture in Washington State and has a great internship listing.

GrowFood GrowFood connects farmers interested in teaching with people interested in farming.

The Evergreen State College Organic Farm TESC in Olympia, Washington has one of the most recognized organic farm education programs in the nation. Fairhaven College students are eligible to join the 9-month farm program through the C.I.E.L. university exchange.

Cloud Mountain Farm Center Cloud Mountain Farm Center is a 20-acre non-profit farm in Everson, Washington that offers educational workshops and internships for aspiring farmers.  It was started by an Outbacker!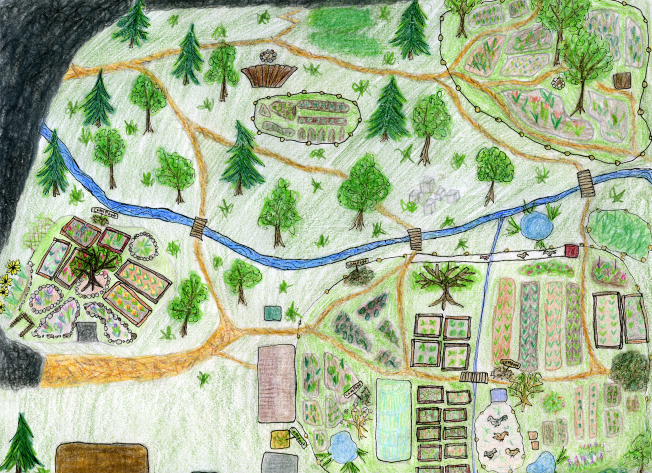 The Garden
The Outback Community Garden is comprised of over 40 individual plots. They are available free of charge to students, staff, and faculty, and community members on a first-come, first-served basis. To be eligible for a plot, individuals must commit to tending it throughout the summertime or have a plan to pass on responsibility to a known party. No prior gardening experience is necessary and experimentation (so long as it is organic!) is encouraged. For more information or to register for a plot contact the Outback Assistant Coordinator as.outback.asst.coord@wwu.edu

Educational Garden
As an educational farm, we strive to model what working farms must focus on – productivity. The Educational Garden is a small-scale, collectively-managed demonstration in productive organic agriculture. Volunteers, academic groups, and the Outback crew all help maintain the Garden with the guidance of the Outback Coordinators. Food is grown for Outbackers and volunteers, and 2012 marked the beginning of an organized donation program for the Bellingham Food Bank. For more information contact the Outback Coordinator as.outback@wwu.edu or 650-2433
Forest Garden
Located in the southeast corner of the Outback, the Forest Garden is a fledgling food forest full of fruit trees, berry bushes, native plants, shrubs, flowers, and annuals. Forest Gardening is an innovative style of agriculture focused on mimicking natural forest ecosystems in the production of food. For more information contact the Forest Garden Coordinator as.outback.forest@wwu.edu

Herb and Ethnobotany Gardens
The Herb Garden is host to a variety of perennial and annual herbs, and is located at the north entrance to the Outback. The Ethnobotany Garden is terraced above the Educational Garden and is used by Fairhaven College's Ethnobotany students to cultivate plants that have unique relationships with humans. For more information on the Herb Garden contact Emily Brodie emilygracebrodie@gmail.com. For more information on the Ethnobotany Garden contact John Tuxill john.tuxill@wwu.edu
Connelly Creek
Running down the center of the Outback is a small tributary of Connelly Creek, which is surrounded by a 0.6 acre wetland. The restoration of this area has been a cooperative volunteer student effort since the early 1990s, and the wetland was officially designated in 1994. Outbackers, the college of the Environment, Fairhaven academic programs, and LEAD continue to maintain the wetland as a healthy riparian ecosystem. Contact John Tuxill john.tuxill@wwu.edu or the Outback Coordinator as.outback@wwu.edu for more information.
Amphitheater
Outbackers and WWU Facilities Management completed the Outback Amphitheater in the spring of 2010 with the help of students, WWU Facilities Management, and funding from Fairhaven College. The Amphitheater is a perfect space for community gatherings and outdoor events, including concerts, movies, and theater. Any WWU club, class, or academic program is welcome to use the space, please contact Susan Pogreba in the Fairhaven office to make a reservation susan.pogreba@wwu.edu or 650-3680
Outdoor Classroom
The new Outdoor Classroom was completed in 2012 by WWU Facilities Management with funding from the Associated Students Board of Directors. Outbackers use the space to host workshops, hold meetings, and to occasionally take a break from mud and rain. Any WWU club, class, or academic program is welcome to use the space, please contact Susan Pogreba in the Fairhaven office to make a reservation susan.pogreba@wwu.edu or 650-3680
Greenhouses
The Upper Greenhouse was completed in the 1990s by Outbackers, and is used as an educational garden growing space for hot weather crops and winter gardening. The Lower Greenhouse was completed in 2010 with funding from the Associated Students, and is used by the educational garden crew and community garden members to start plants from seed and grow produce throughout the year.
History
The Outback has a long and detailed history with Fairhaven College. "Outbackers" used to live in the Burns Cabins, on the site originally named "The Outback Pig Farm" working cooperatively and educating the community about issues of conservation, restoration, and farming. Now students no longer live there, but its gardens are used as a resource for many programs, classes, and community groups.
A Timeline
1920 June and Farrar Burn homestead the land and build two cabins.
1969 The Outback slated to become dorms and parking lots.
1972 Students initiate the Outback Pig Farm.
1978 Student proposal to become the Outback Program, is accepted but is later dropped by administration.
1980's Students begin experimental living in Outback. A barn is raised. Classes begin to utilize the Outback.
1990's New student energy initiates wetland designation and restoration. A greenhouse is constructed. Students bring in ducks, and establish annual Earth Day Events. First performance stage is built.
1996 First Earth Day in Outback.
1999 Outback receives endorsement and academic protection from WWU.
2000 "Outback Cooperative Project".
2001 "Ecovillage Design" Course. Hundreds attend Earth Day. Food grown for homeless shelters through Fruitful Gatherings. Solar photovoltaic system installed.
2002 Huxley and Fairhaven complete an academic proposal.
2003 Proposal to become an official Associated Students Program. Students begin designing new performance stage.
2004 Push continues for program status. Stage design complete.
2006 OB becomes AS program and 1st salaried student coordinator hired; Community Garden restored- creating a 'pea patch' format for students, faculty, staff, and community members to have their own garden plots; Educational Garden started (originally 'Market Garden') Food grown for volunteers and Bellingham Food Bank.
2007 CDC (Early Childhood Development Center) garden started; Received $11,000 AS grant to fund green house and tool shed replacement, cedar signs, and raised beds for Community Garden; students replaced green house.
2008 Students take down old, dilapidated, tool shed and sauna buildings and build new tool shed; students install cedar signs that Facilities made.
2009 students complete Amphitheater framing; students form Burns' Cabins Restoration Project.
May 2010 Amphitheater is completed.
Summer 2013 completion of the Outdoor Classroom.
Staff
AS Outback Engagement Coordinator
AS Outback Operations Coordinator