Western Outdoor Orientation Trips
Wilderness WOOT offers a 7 day experience that begins here on campus. The following morning students set out on their wilderness adventure with up to 9 other incoming class members and 3 upper class trip leaders.
Students are immersed in their trip beginning Monday returning to campus the following Saturday. During their time away they will have a chance to connect deeply with a small group of peers, gain valuable leadership skills, learn more about the Western Experience, and connect the natural environment.
Fall 2024 Program Dates
Sunday, September 15th 2024 Arrival day for WOOT Program
Saturday, September 21st 2024 Return to campus and conclusion of the WOOT Program

Classifying levels of challenge for Wilderness WOOT
Every trip involves a certain level of physical demand as students are responsible for carrying their own equipment and food on our wilderness backpacking and sea kayaking trips. With regular physical activity leading up to the trip, you should have no problem thriving during your WOOT experience. With that said, they are a bit more than your average walk in the park.
Less strenuous: These WOOT trips are ideal for someone who is seeking an opportunity to become comfortable outdoors. They are designed to introduce the foundational outdoor skills and expose students to new activities.
Moderate: These WOOT trips at the moderate level are ideal for someone who is wishing to expand their technical skills outdoors. It is a great opportunity to challenge yourself if you are an avid hiker and camper, but have limited backpacking or sea kayaking experience. For the backpacking sessions, you will carry a 30-50lb pack and hike around 4 to 10 miles a day with low to moderate elevation gain. For kayak sessions, you will use Viqueen Lodge as home-base and paddle for 3-4 hours a day, with the opportunity to venture out setting up camp away from the lodge on a neighboring island.
More strenuous: These WOOT trips are for those who are very experienced in the outdoors, including experience with elevation, familiarity with technical skills for both kayaking and backpacking, and have a high level of comfort with long days and strenuous exercise. For the backpacking sessions, you are expected to carry 30-50 lb packs and hike 5 to 12 miles a day with substantial elevation gain. For kayak sessions, you will be touring from island to island, setting up camp, and paddling for up to 4-6 hours a day.
Please review the following trails as examples from WOOT 2023. Planning is underway for WOOT 2024 and this page will be updated as needed.

Backpacking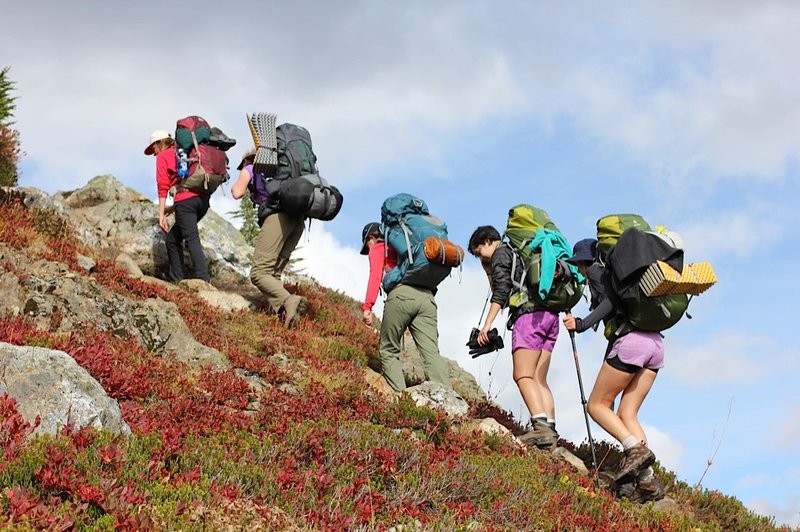 As a WOOTer, you can expect to rise early and have a nice cup of tea while listening to the woods coming alive around you. Your morning generally starts with a group activity that gets your blood flowing and everyone laughing. Next, duties are split up to prepare for the day ahead. Some take down camp while others prepare a hearty breakfast. Once packs are on, boots are tied, and morning yawns have dissipated, you will hit the trail and begin trekking to your next destination. During this time you will get to know your group while taking in the beautiful surroundings including mountain streams, views of the San Juan Islands, towering firs, granite peaks, and magnificent glaciers looming in the distance. While on the trail there will be times to take breaks and soak it all in while also learning how to read maps, identify native plants, and connect with your fellow WOOTers through a variety of activities and reflections. After a long day of hiking, rolling into camp brings a sense of familiarity as everyone celebrates the day's successes, and prepares for nightly activities and duties. Once camp is set, everyone settles in for the night as the fire grows listening to stories from each other as well as your trip leaders about what has made their Western Experience so memorable.
Fall WOOT 1 – Backpacking
Destination: Blue Lake
Level of Difficulty: More Strenuous
Description: On this WOOT experience you will spend 6 days exploring the Glacier Peak Wilderness. Expect to hike between 5 and 10 miles per day with significant elevations gains. Your work will be rewarded will lush old growth forests, alpine meadows and views of Glacier Peak adorning the skyline. The trail begins along the North Fork of the Sauk River before gaining elevation along switchbacks before eventually meeting the Pacific Crest Trail. Find your way to Upper Blue Lake before heading back to the trailhead with scenic views and incredible people. Evenings are spent playing games, exploring backcountry skills and marveling at the natural world surrounding you.
Fall WOOT 2 – Backpacking for Students with Marginalized Gender Identities
Destination: Thunder Creek/Easy Pass
Level of Difficulty: Moderate
Description: This trip is intended for participants with gender identities who aren't traditionally supported or reflected in outdoors spaces. This could include participants who are any of the following and more: women, non-binary, transgender, two-spirit, genderqueer, gender fluid, and or gender non-conforming. Gender is expansive and nuanced - you are welcome here! If you are seeking a safe, affirming, and empowering backpacking trip with folks who have similar gender identities, this space is for you!! Starting at the end of Diablo Lake, enjoy 6 days of backpacking in the North Cascades National Park hiking between 2 and 6 miles each day. Cross your fingers for Fall colors and wild huckleberries as this trail winds alongside a river before gaining elevation on the hike out. Evenings are spent in the valley listening to the bubbling river, learning the ins and outs of backcountry living and connecting with your peers.
Fall WOOT 3 – Backpacking
Destination: Rainbow Loop North Cascades National Park
Level of Difficulty: Moderate
Description: On this WOOT experience, you'll spend six days backpacking in the North Cascades National Park. Expect to hike between 3 to 7 miles each day, with moderate elevation gain. The trail passes the refreshing waters of Rainbow Lake and McAlester Lake, not to mention plenty of mountain streams. Highlights include scenic vistas and lush alpine meadows. Evenings are usually spent playing games, perfecting the art of backcountry cooking, and getting to know your fellow WOOT-ers.
Fall WOOT 4 – Backpacking
Destination: Bridge Creek
Level of Difficulty: Less Strenuous to Moderate
Description: On this WOOT, you'll spend six days backpacking in the North Cascades National Park. Expect to hike 3.5 to 7.5 miles each day with little elevation gain. There may be an optional summit of Goode Ridge (7700'). Evenings will be spent learning how to cook backcountry delights with your group, bonding with fellow WOOT-ers, and enjoying your spectacular surroundings.
Fall WOOT 5 – Backpacking
Destination: Ross Lake
Level of Difficulty: Less Strenuous
Description: On this WOOT experience, you will spend 6 days backpacking in the North Cascades National Park along the East Bank of Ross Lake. This is an incredible out and back trip that offers most campsites right along the shore of the Lake. Expect to hike 2-6 miles per day with moderate elevation gain. There are incredible lake, creek and peak views throughout this entire experience! And those who are up to the challenge, mid way through the trip there is an optional summit of Desolation peak that is rewarded with panoramic views of all the North Cascades from a historical fire lookout station.
Sea kayaking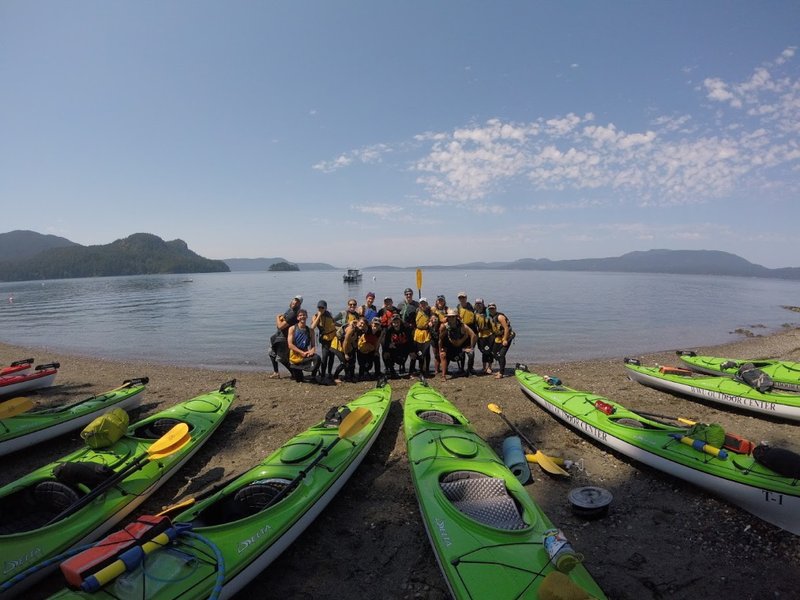 Our sea kayaking program shares the same foundational goals and objectives around group and individual growth as our backpacking trips, but differs in the mode of transportation and overnight accommodations. Students will take a boat charter to Sinclair Island, where the first day is spent developing paddle skills, kayak safety, and increasing comfortability on open water. Viqueen Lodge is utilized as a headquarters on Sinclair Island, where the group will return most nights after paddling around neighboring islands. These islands include Cypress Island, Vendovi Island, and Orcas Island, which can all be explored by foot, and makes for an incredible lunch spot! Depending on the group goals and sea conditions, there is also likely to be overnight trips to the neighboring islands mentioned!
Fall WOOT 6 – Sea Kayaking
Destination: Viqueen Lodge, San Juan Islands
Level of Difficulty: Less Strenuous to Moderate
Description: On this WOOT! experience, you will spend six days in the field with your fellow WOOT-ers exploring the San Juan Islands via kayak. We'll use Viqueen, our rustic cabin on Sinclair Island, as a home-base as we venture out on day and overnight excursions to the surrounding islands for hikes, camping, and viewing the diverse wildlife of the Salish Sea. In addition, there may be an optional night paddle to experience the magic of bioluminescent algae that summer in the islands is known for!