Become a Trip Leader this Fall!
Apply Here! Application opens October 20th and closes November 3rd at 11:55pm
What do Trip Leaders do?
Outdoor Center Trip Leaders lead and facilitate a wide variety of recreational activities connected to nature. These include close to campus adventures, or far and deep wilderness immersions and everything in between! Trip Leaders are responsible for leading and or supporting various types of outdoor activities within the Outdoor Center. These include: Western Outdoor Orientation Trips (WOOT!), Excursions, Adventure Breaks, Clinics & Instructional Classes, Big Events and Service Outings. Activities generally include hiking, biking, backpacking, sea kayaking, walking, snowshoeing, skiing, rock climbing, and many other outdoor recreation activities! One of the joys of being a Trip Leader is bringing your unique passions, ideas and interest into the work that you do. The majority of the programs are designed by students, led by students and for students.

You responsibilities as a Trip Leader will include trip planning, personal outdoor leadership development, safety and risk management skills, evaluation of self and peers, developing effective communication skills, and actively engaging the Western community through leading outdoor activities. We think it's a wonderful opportunity to get involved and get outside and we hope you will join us.
How much prior experience do Trip Leaders need?
Do you love being outdoors but feel like you don't have much experience, training or certifications? Don't worry! The Outdoor Center will teach you all of the necessary skills you need to be a competent leader through our fun and engaging "Pathways" program. We aim to get you equipped with the knowledge, experience, and skills you need to become an outdoor leader regardless of your prior experiences. All you need is a commitment to outdoor leadership and a desire to learn!

While some of our trip leaders have been exposed to outdoor activities their whole lives, many joined us with little to no prior experience! Our priority is to find people who are excited about working with others and learning and teaching new skills. We seek individuals who bring a diversity of experiences and backgrounds to the program. The more our leaders represent WWU campus, the more accurate an impression our participants will have on what our program stands for! The Pathways Program is a fun and engaging process that begins with establishing the foundations as a leader in the outdoors. Each year, a new cohort that best represents our campus is brought into the Pathways Program. This generally consists of 10-15 new Trip Leaders that you will develop life-long connections with over Winter Quarter and into your time as a Trip Leader with the Outdoor Center.
When should I think about applying?
This is a question that all individuals should ask themselves prior to applying to become a Trip Leader. We do not want you to be discouraged as the answer is unique to each person based on their personal involvement with school, outside work obligations, and time that you will be able to commit developing your skills both in and outside of the program. Becoming a Trip Leader is a big commitment as you can see, so please consider your options carefully!

Our model is built on the assumption that most individuals who apply are at freshmen or sophomore status at WWU. This allows students to flow through the program with a steady progression as they develop the skills necessary in their preferred outdoor activities to progress from an Apprentice, Assistant and Head Trip Leader. Generally speaking, it takes approximately one year to gain all of the skills necessary to begin to work your way into higher levels of leadership. After one year most Trip Leaders have a strong foundation and possess the certifications that are necessary to assume these higher-level leadership roles.

If you are applying to be a Trip Leader and are at a junior status, this does not limit your eligibility for hire but may affect what you are able to do with your shorter duration within the program. We suggest getting in touch with the Viking Outdoor Recreation Programs Coordinator to discuss what your goals are as a Trip Leader and what is feasible during your time.

If you are considering applying to be a Trip Leader and are at a senior status, we recommend that you come speak directly with the Viking Outdoor Recreation Programs Coordinator to explore what your options may be. This greatly affects what you will be able to do with less than a year to develop as a leader within the program. Unless you are applying and have previous guiding experience, we do not recommend applying.
What does the hiring and training process look like?
(Inability to commit to all training sessions (January-March) will make you ineligible for employment)
The Outdoor Center puts interpersonal and leadership skills at the top of our preferred qualifications with less of an emphasis on the technical skills. Once hired, a major component of employment as a Trip Leader is the continued development of the technical skills required to lead a wide variety of trips for the Outdoor Center.

If selected as a finalist, you interview will last roughly 30 minutes. This is the toughest stage for the committee as they have to narrow down the top candidates who will become the next cohort of Trip Leaders to join the Outdoor Center.

During the interview one question that you will be asked is your ability to commit to all stages of Pathways including the 5 workshops as well as the week-long Outdoor Leadership Field Experience. This process is non-negotiable and if you are not able to attend all sessions, unfortunately this will make you ineligible to become a Trip Leader. We have found that Trip Leaders inability to fulfill the Pathways process ultimately effects their ability to become a successful Trip Leader for our program.
How much work will I get as an Outdoor Center Trip Leader?
This can vary greatly based on what you wish to accomplish in the program. At minimum we aim to place Trip Leaders on 2 trips per quarter during the academic year. During the summer, Trip Leaders generally work 1-2 week-long Western Outdoor Orientation Trips participating in a variety of outdoor activities. We like to think of it as committing as much or as little as you can based on your personal class load and other work/personal obligations. Something that must be recognized is that most Trip Leaders work other jobs on campus or elsewhere to financially support themselves.

The greatest benefits of becoming a Trip Leader can be highlighted by a number of our leaders own experiences. Common threads among our Trip Leaders narratives include stories of transformation, community, personal growth, professional development, development of leadership and technical skills, and self-empowerment.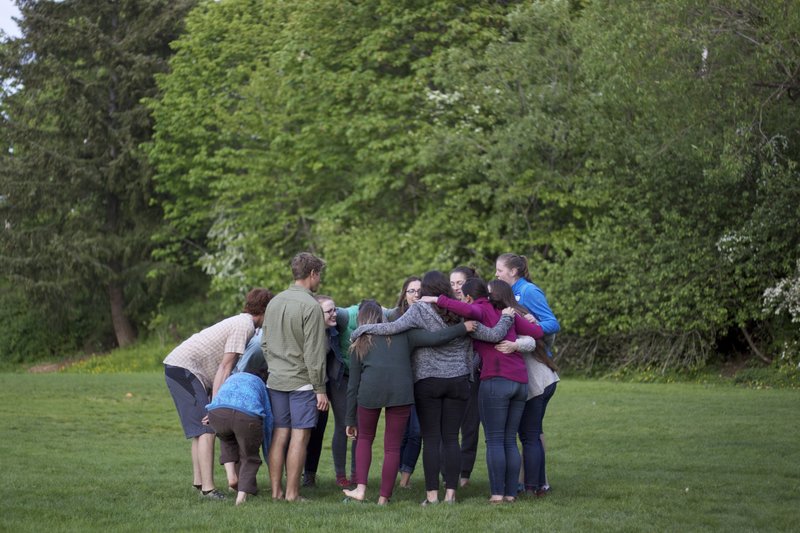 What is the compensation for Trip Leaders?
Trip leaders receive hourly pay for all required trainings. Required trainings including New Hire Night, Pathways Workshops 1-5, Required All-Staff Trainings, and the Outdoor Leadership Field Experience.

Trip Leaders do not receive pay for supplemental Pathways Trainings offered throughout the year. Rather they are afforded the ability to participate in these trainings free of cost to continue their professional and technical skills development. Alternatively, if you meet the Trip Leader Requirements outlined in the Outdoor Leadership Skills Log, you can bypass these supplemental trainings.

Trip Leaders are also provided a Wilderness First Aid Certification at no cost. Additional professional certifications including but limited to: Avalanche Training Level 1 Certifications, and Wilderness First Responder Certifications are available through an application process and after demonstrating 1 full year of commitment and engagement with the program with plans to advance to Head Trip Leader.

Leaders also receive pay for the trips that they lead based on their level of qualification for the type of trips they are leading. Trips are paid via contractual agreement. Contract rates are as follows. Apprentice Level Trip Leaders $131 per day. Assistant Trip Leaders $144 per day. Head Trip Leaders $157 per day.
What are Pathways Trainings?
Once hired, you will begin down your Pathway as an Outdoor Center Trip Leader. This begins with establishing your foundation in Outdoor Leadership over the course of 5 half-day workshops that take place Thursday evenings during Winter Quarter. This culminates in a 6-day Outdoor Leadership Field Experience (OLFE). On your OLFE, you and your cohort join together putting all of your knowledge to practice in a fun and engaging week-long backcountry trip.

Workshop 1: Foundations of Outdoor Leadership
Workshop 2: Risk Management & Safety in the Backcountry
Workshop 3: Technical Skills Training Course
Workshop 4: Technical Skills Assessment
Workshop 5: Trip Planning
Outdoor Leadership Field Experience

You will pull together all of your knowledge developed on-campus and, as Trip Leaders in small teams, you will take turns being leaders of the day. In this role you will practice applying all of your leadership, risk management and technical skills while managing the interpersonal needs of your group members. This is a fun, challenging, and exciting week that will set you up for success as a Leader for your years to come with the Outdoor Center!

Continuing on, over the course of your time at WWU you will have the opportunity to continue to grow and develop as a leader in a variety of Outdoor Recreation activities both through participating in additional trainings, being mentored by other Trip Leaders, and through leading WOOT and Excursions Programs offered throughout the year. The following Pathways courses are available free of charge to Trip Leaders to develop your outdoor leadership skills. All of your progress is tracked via your Outdoor Leadership Skills Log which helps you map your journey and accomplish what you wish with your time in the program.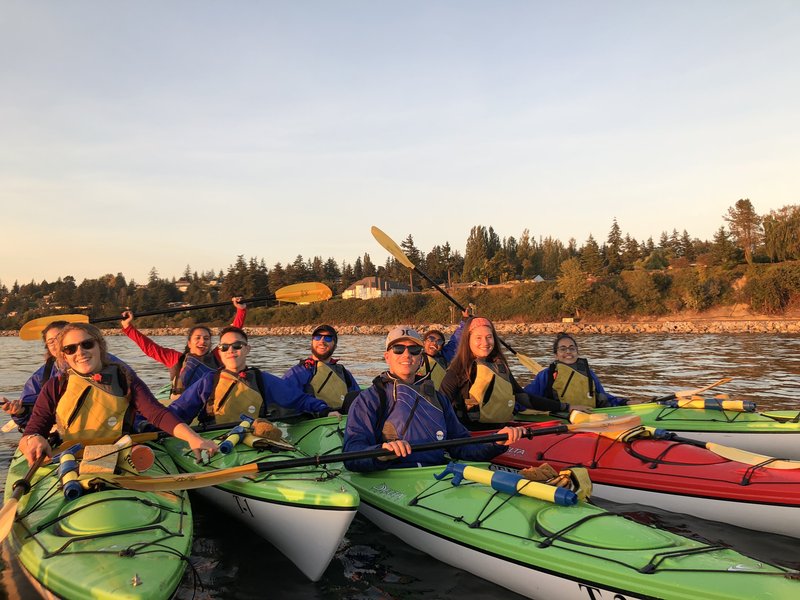 The following optional Pathways Trainings are offered on an annual basis
Fall Quarter
Sea Kayak II
Rock Climbing II
Winter Quarter
Introduction to Winter Travel
Wilderness First Responder*
Avalanche Training Level 1*
Spring Quarter
Sea Kayak I
Rock Climbing I
*By application process after 1 year of being in the program with commitment to continue leading Outdoor Center trips at a Head Trip Leader Level. Amount covered dependent time left in program.

In addition to these trainings Trip Leaders can pursue their own unique interests and needs as they begin to progress in the program. On case-by-case basis we can occasionally provide financial support for advancing through AMGA, AIARE, ACA, and other specialty certifications for leaders who are pursuing specialized leadership skills as Trip Leaders.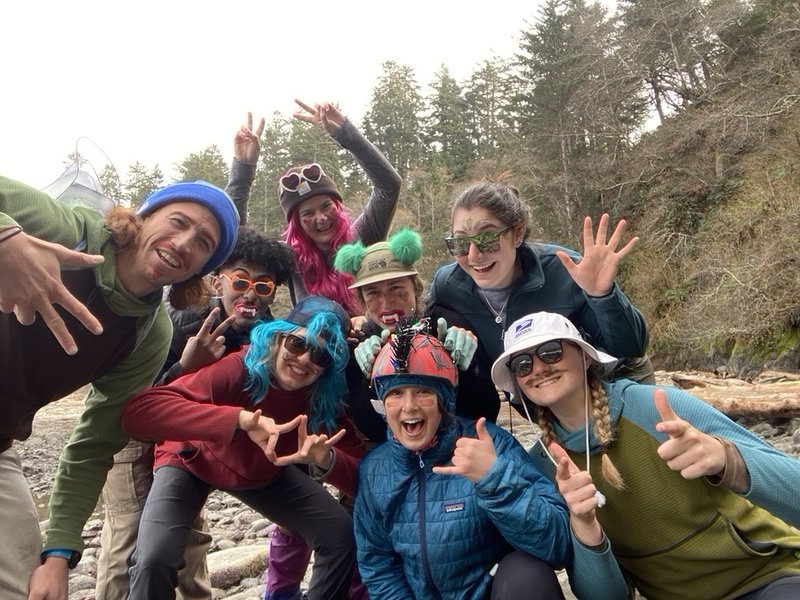 Application Process -
The Trip Leader application will open on October 20th and remain open for 2 weeks. It will close on November 3rd. Applications will be available via the student employment web site and you will be required submit a cover letter and resume.
The hiring committee will review and select interview candidates on or before November 10th.
Interviews -
For candidates that advance to the final interview stage, they will be notified on or before Friday, November 10th. Interviews will be conducted from November 13th-December 8th. The interviews last roughly 30-minutes and will be your final step in the process. Once all the interviews are finalized, candidates that have been selected will be notified prior to the end of Winter Quarter.
Winter Quarter Training Timeline
New Hire Night Thursday, January 11th
4-8pm
New hire night acts as an orientation to the Outdoor Center and welcomes all our new and returning leaders in a night of fun and silly activities mixing cohorts and supporting our community development.
Pathways Workshop 1 Thursday, January 18th
4-8pm
Foundations of Outdoor Leadership
Pathways Workshop 2 Thursday, January 25th
4-8pm
Risk Management & Safety in the Backcountry
Pathways Workshop 3 Thursday, February 1st
4-8pm
Technical Skills Training Course
Pathways Workshop 4 Thursday, February 8th
4-8pm
Technical Skills Testing
Pathways Workshop 5 Thursday, February 15th
4-8pm
Trip Planning
Wilderness First Aid Course Saturday February 17th-19th
All Day Both Days
Outdoor Leadership Field Experience Pre-Trip Thursday, March 14th
4-8pm
Final Preparations for OLFE
Outdoor Leadership Field Experience Sunday, March 24th-Saturday, March 30th
You will pull together all of your knowledge developed on-campus and, as Trip Leaders in small teams, you will take turns being leaders of the day as we backpack down the coast of the Olympic Peninsula. In this role you will practice applying all of your leadership, risk management and technical skills while managing the interpersonal needs of your group members. This is a fun, challenging, and exciting week that will set you up for success as a Leader for your years to come with the Outdoor Center!
Outcomes
- Increase confidence and self-awareness
- Develop meaningful relationships and build a supportive community
- Cultivate interpersonal communication and leadership skills
- Establish cultural and environmental awareness
- Gain a greater sense of place at Western Washington University
- Develop technical skills in a wide variety of outdoor recreational activities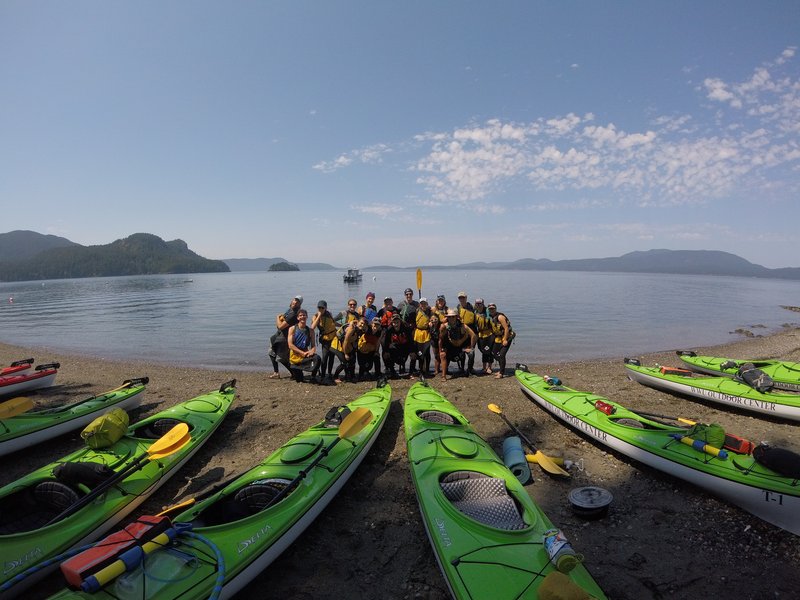 Testimonials from Current Trip Leaders
"I've participated in almost every training offered through the Outdoor Center as a trip leader, through these trainings I've been able to lead excursions in technical areas that I previously had no experience with before being hired. From leading sea kayaking trips to having involvement in rock climbing trainings, I would have never pictured myself in these technical positions before getting hired."

"I came into the Outdoor Center with limited technical outdoor knowledge, I had hiking and backpacking experience but never had access to more technical sports. I found the Outdoor Center my freshman year when I signed up for a snowshoeing trip, I was so impressed by the level of community my trip leaders created on the trip and was motivated to apply to be a trip leader because of it. It was especially impactful to find out that no technical experience was needed to apply, I would not have even considered applying if that wasn't the case."

"Through my two years working for the Outdoor Center I have developed the technical and leadership skills through trainings to feel comfortable leading in a head trip leader position. I've been able to get myself outside and most importantly help others get outside, striving to give them an experience that they can learn from. Being able to have open access to the outdoors is something that the excursion program strives for, I feel that the trip leader training program exemplifies this by giving anyone with a passion for leading the opportunity to step into the leadership role of a trip leader."

"I am thankful to the school and to the outdoor center for having created a community that is so welcoming and working harder to become inclusive to all and a place of opportunity for everyone."

"My experience as a trip leader at the Outdoor Center goes far beyond what I have learned through medical certifications. The program has helped me develop my interpersonal, leadership, and risk management skills just to name a few."

"The OC emphasizes and teaches "soft" skills which are crucial to the emotional, physical, and mental well-being of students who participate in WOOT as well as Excursions."

"Working for the Outdoor Center has been one of the most transformative experiences of my college career. In my early college experience I had very little community and felt pretty lost at Western. I had participated in the WOOT program before entering my freshman year, so I was aware of the Outdoor Center and what it was all about. I knew that working for the Outdoor Center was a dream of mine, and after applying twice, I got hired last spring as a trip leader."

"During the trip we learned how to teach lessons to participants about important outdoor skills. Topics ranged from map and compass navigation, to outdoor hygiene, to gear maintenance, to backcountry cooking. Many newly hired trip leaders, including myself, did not have knowledge in one or many of these areas. The lessons facilitated our teaching abilities, and our learning of these more "technical" outdoor skills. We use this knowledge on a variety of trips, most notably on WOOT trips in the summer. Teaching folks how to be comfortable and have a blast in the backcountry is one of my passions as a trip leader. Not only was the field experience an opportunity to learn outdoor skills, it was also a test of our mental and physical strength. I went into the week with a bit of a superiority complex about my outdoor skills, but was quite humbled by the experience. I discovered a lot about myself that week and it sparked much reflection in me over the summer that has made me a better leader and human. I am eternally grateful for all the valuable lessons I learned that week."

"Being a part of the Outdoor Center has been the most impactful part of my time at Western. This community has been so welcoming and has changed how I think about outdoor recreation, who recreates and why."