Excursions
Outdoor Center Excursions
Excursions offers a fun, accessible and affordable way to get outside for students, faculty, staff and alumni. Emphasis is placed on group involvement, developing and refining skills, responsible environmental practices, fostering diversity, enriching the academic experience, and promoting life-long learning.
Excursions Calendar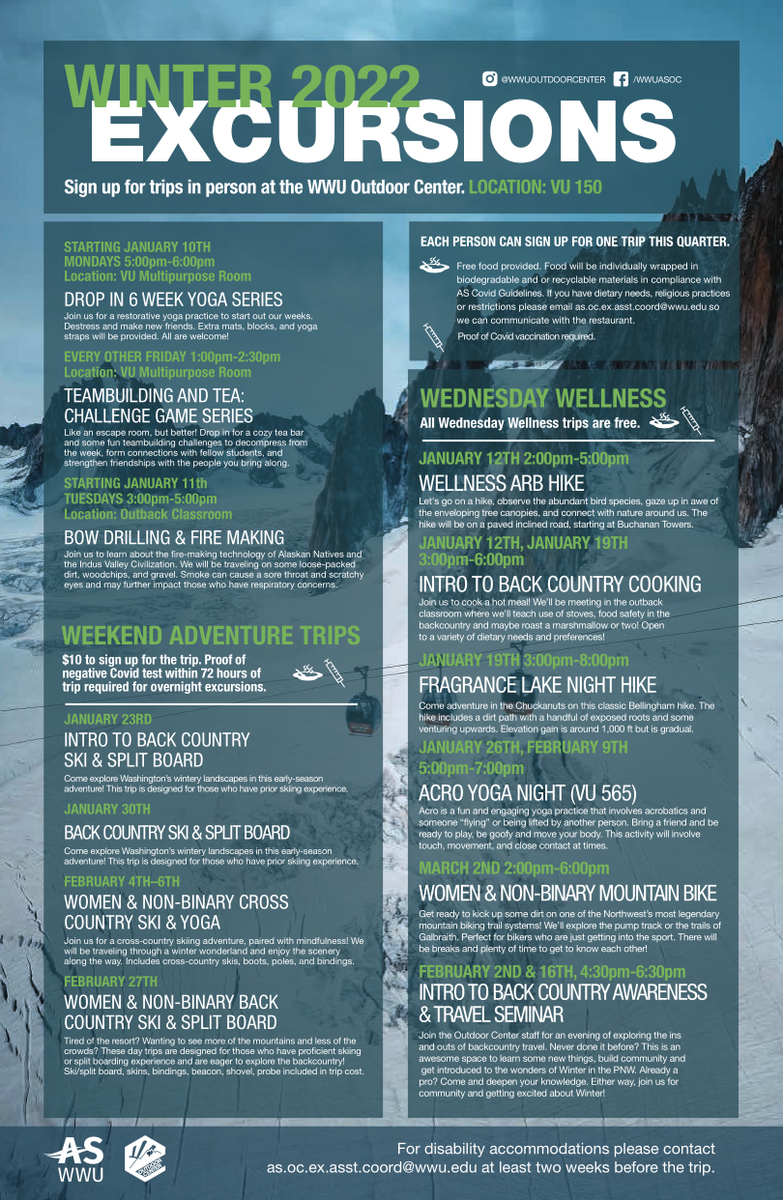 Have a question? Want to share a thought? Have an idea for an event you want or a Haiku you are stoked on? Reach out to as.oc.ex.asst.coord@wwu.edu or as.oc.excursions.coord@wwu.edu or call 360-650-7677 if there is any further questions or needs!

Glacier Skills Workshop Series
Come learn skills to climb glaciated peaks such as Mt Baker and Mt Shuksan in the North Cascades. This seminar will introduce you to the technical skill set required to move through high alpine terrain. The course will not have any on mountain components and therefore is not fully comprehensive, but it will give an excellent framework to continue learning skills to climb glaciated peaks. Prerequisites include some roped climbing experience, weather that be rock climbing or mountaineering. If you don't have prerequisite experience but would still like to take the course, please reach out to the trip leader when you sign up!
Attendance at all 4 classes is required to take the course.
11/8 4pm-6pm
11/9 4pm-6pm
11/15 4pm-6pm
11/16 4pm-6pm