Excursions
Outdoor Center Excursions
Excursions provides an opportunity to get outside and connect with the local northwest lifestyle, while learning valuable leadership and technical skills. Our trips are designed and led by students, for the WWU campus community.
Here is what's happening Winter 2021!
Simply click on the title of the event and it will direct you to our WIN! Due to Covid-19 safety, group restrictions and to ensure your spot on the trip please register through WIN!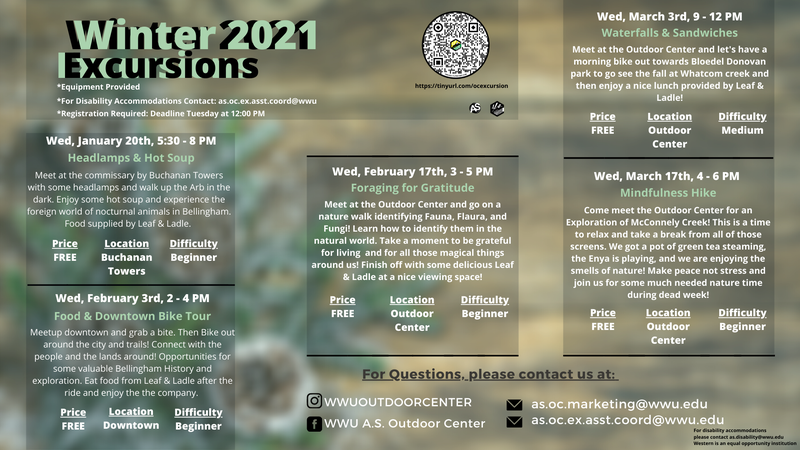 Image Description: Winter 20201 Excursions Calendar. 5 trips available during winter quarter for students to participant and have fun in a safe inclusive environment. Read below for trip descriptions.



Please contact as.oc.ex.asst.coord@wwu.edu with any specific adaptations or accommodations, we aim to make these experiences as inclusive as possible and for further information please see this link.
We are trying to stay active and safe this winter. On every in person trip we follow our Excursions Covid Guidelines which are based on the university's policies. We are offering in person trips that are open to all students every other Wednesday starting January 20th.


Jan 19th 12-1pm
Come join the Outdoor Center to discuss the best ways to recreate and be outside in the Winter! What places should I avoid in the rain? What places are kept the most dry? Which waterfalls get so big you can slide down them :) and those sorts of things! Even though it's cold and rainy we think it's important to get outside for mental health and hope you do too! Closed Captioning will be available!


Jan 20th 5-8pm
Meet at the commissary by Buchanan Towers with some headlamps (provided by the OC) and walk up the arb road in the dark up to the top. Enjoy some hot soup and experience the foreign world of nocturnal animals in Bellingham. Food supplied by Leaf and Ladle. Event will be accessible to wheelchair users and other disabled folk.


Feb 2nd 12-1pm
Let's talk everything Winter! Places to go snowshoeing, where to rent skis, tips and tricks on Baker! Essentially if there is anything snow and or winter recreation related this is it! Don't know where to begin or there's too much information? We get that! Join us to help demystify Winter recreation and how to get involved in the great outdoors! Closed Captioning will be available.

Feb 3rd 2-4pm
Meetup downtown and grab a bite. Then bike out around the lettered streets neighborhood and throughout the many city trails! Connect with the people and the lands around us. Opportunities for some valuable Bellingham History and exploration. Eat food from Leaf and Ladle after the ride and enjoy the beautiful bay! Adaptive bikes (Handcycles, Recumbent Trike, & Tandem Bike) will be available if requested a week before the excursion.


Feb 8th 12-12:30pm
Hop on zoom and talk about the dangers of the backcountry world and how to see them! In this informational session we'll practice filling out blue books, understanding avalanche dangers and where to find the most up to date information and resources regarding Winter travel. *This does not replace training in avalanche safety and proper preparedness. Closed Captioning will be available.

Feb 16th 12-1pm
Explore the quantitative and qualitative reasons and research why being outside is great for humans! Science has shown what many people have known for a long long time and we'd love to talk about it! Want to figure out how to get outside when the sun comes around? This is the place! This is an open ended space to talk about  all the amazing things that can happen from recreation! Closed Captioning will be available.

Feb 17th 3-5pm
Meet at the Outdoor Center and go on a nature walk identifying Fauna, Flaura, and Fungi as we go! Learn what they look like in the natural world and how to identify them. Stop for some moments to be grateful for living the life we live and for all those magical things existing around us! Finish off with some delicious Leaf and Ladle at a nice viewing space! *We will not be eating any of the organisms viewed and we will simply learn and admire!

Feb 23rd 12-12:30pm
Do you have gear that's been used a little too much? Or a pair of pants that have some shiny knee holes? Maybe there's something broken sitting around to be fixed! Learn how to extend the life of your gear, make basic repairs and keep things out of the landfill! Closed Captioning will be available.



Mar 2nd 12-1pm
Connecting people to what sustainability looks like in outdoor recreation, topics of land use will be discussed aswell as understanding the stolen land that we recreate on and implications of our actions. What does it mean to recreate in the PNW and how do we do this responsibly? Come join the Outdoor Center for a panel discussion on the topics above! We know its lunch time so we encourage you to sustain yourself and bring/eat some food! Closed Captioning will be available.


Mar 3rd 9am-12pm
Let's have a morning bike out towards Bloedel Donovan park to go see the falls at Whatcom creek and then enjoy a nice lunch (or brunch) provided by Leaf and Ladle!  Come meet at the Outdoor Center for this early morning adventure. Gear provided, however, if you have your own equipment you are encouraged to bring it! Adaptable equipment available (Handbike, Tandem and Recumbent). There are moderate to difficult hills and we can offer guidance on how to traverse them and make it feasible for people to succeed but it might not be feasible for every skill level! Contact as.oc.ex.asst.coord@wwu.eu at least one week in advance to ensure proper equipment is available, we aim to make this experience as inclusive as possible and for further information please see this link.


Mar 9th 12-12:30pm
What are the best backcountry snacks? How should I pack food? What do I eat in the wilderness? Is nature really the best spice? If you've ever been curious about food in the backcountry, we're all about it! Come join us to learn great recipes, tips and tricks and how to have unforgettable food in the backcountry! Closed Captioning will be available.


Mar 17th 4-6pm
Come meet the Outdoor Center for an exploration of McConnely Creek! This is a time to relax and take a break from all of these screens. Woohoo! We got a pot of green tea steamin, the Enya is playing, and we are enjoying the smells of nature! Make peace not stress and join us for some much needed nature time during dead week! Trip includes travel over level gravel trails.


Have a question? Want to share a thought? Have an idea for an event you want or a Haiku you are stoked on? Reach out to as.oc.ex.asst.coord@wwu.edu or as.oc.excursions.coord@wwu.edu or call 360-650-7677 if there is any further questions or needs!